C
Campbell, Sir Malcolm (1885-1948) – Malcolm Campbell started his career racing motorcycles but subsequently began hunting World Speed Records on land and on water, holding both records during the 1920s and 30s. At Bonneville Salt Flats in 1935, this English speedster became the first man to drive an automobile in excess of 300mph (480km/h). Bro. Campbell was a member of Old Uppinghamian Lodge, England.
British speedster Donald Campbell broke eight world speed records on both land and water in the 1950's and 60's.
Campbell, Donald Malcolm (1921-1967) – Following in his father's footsteps, Donald Campbell set both the Land Speed Record AND the Water Speed Record in the same year (1964). He died, again attempting the Water Speed Record, on Coniston Water, Lancashire, England in 1967, when his boat 'Bluebird' flipped, crashed and broke up at more than 320mph (515km/h).
Canning, George (1770-1827) – Canning described himself as "an Irishman born in London" and he became a major force in the British parliament during the rise of Napoleon Bonaparte's tyrannies in Europe. A statesman as well as a politician, in 1798 he advocated militarily resisting Napoleon and effectively argued against peace negotiations. In 1807, he planned the 'Second Battle of Copenhagen' resulting in the capture of the Danish fleet, thus removing any threat posed by it to the Royal Navy's dominance of the seas. Canning was once wounded in a duel and, much later and in failing health, became the shortest serving Prime Minister of Great Britain – 119 days in 1827.
Cantor, Eddie (Real name: Israel Iskowitz) (1892-1964) – Cantor was a popular vaudevillian, actor, comedian, singer-songwriter, and was nicknamed "Banjo Eyes" for his eye-rolling, song-and-dance routines. He had hits with songs such as, 'Makin' Whoopee'(1928) and 'MA! He's Makin' Eyes At Me' (1921). Canton was raised in Munn Lodge No.190, New York City.
Carson, Christopher 'Kit' (1809-1868) – A U.S. pioneer frontiersman, scout and explorer, famed for his expeditions into the American West, Kit Carson was fluent in Spanish, Navajo, Apache, Cheyenne, Arapaho and Shoshone. Carson scouted for John C. Frémont, a hard soldier and exploration leader, sent on exploratory missions under orders from President Polk (see Polk below). (Frémont once ordered Carson to shoot three Mexican prisoners because they were "excess baggage".) Kit Carson married Josefa Jamerillo and they had eight children, whose descendents still live in Colorado. Kit Carson's lodge was Montezuma Lodge No.109, Santa Fe, New Mexico.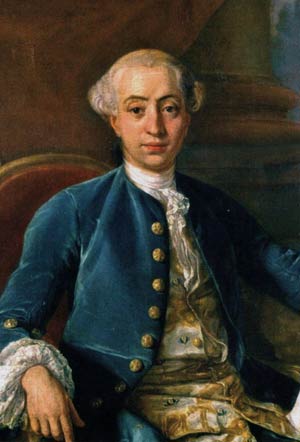 Venetian born Giacomo Casanova was a famous 18th century Italian adventurer and author.
Casanova de Seingalt, Giacomo Girolamo (1725-1798) – Giacomo Casanova, the legendary Venetian-born adventurer, womanizer and gambler was, in 1750, recorded as being a member of the Lodge of the Duke of Clermont in Paris. In 1794 Casanova published his autobiography, Histoire de ma vie, which is regarded as one of the most authentic sources of the customs and norms of European social life during the 18th century. He has become so famous for his often complicated and elaborate affairs with women that his name is now synonymous with "womanizer". He associated with European royalty, popes and cardinals, along with luminaries such as Voltaire, Goethe and Mozart. He spent his last years in Bohemia as a librarian in Count Waldstein's household, where he also wrote the story of his life.
Chagall, Marc (Real name: Moishe Shagal) (1887-1985) – Marc Chagall was a Russian- Jewish artist famous for being the pioneer of 'Modernism'. He was one of the greatest figurative artists of the 20th Century. Chagall was initiated into Freemasonry in 1912.

King Charles II's reign saw the rise of colonisation and trade with America, India and the East Indies.
King Charles II – King of Great Britain and Ireland (1630-1685) – Assisted by SirRobert Moray (see the Moray biography below), Charles II founded The Royal Society of London in November, 1660 from the members of the 'Invisible College'. During Charles' reign political fall-out over his religious view pushed him into exile, and a brief period where Britain was Governed as a 'defaco republic' lead by Oliver Cromwell. Charles was invited back from exile and reinstalled as Monarch in 1660 after the death of Cromwell in 1658.
One-of-a-kind leader of the famous 'Flying Tigers', Clair Lee Chenault was a maverick commander of WWII.
Chennault, Clair Lee (1893-1958) – Nicknamed "Old Leather Face", Clair Chennault was the U.S. General and pioneer aviator who organized the daring 'Flying Tigers', an American manned, fighter group for the Chinese Air Force against the Japanese Empire in the Second World War. Chennault was a heroic symbol to the Chinese throughout WWII and surviving Curtiss P-40 Warhawk fighter planes are still to be seen at air shows around the world in Chennault's distinctive 'Flying Tigers' colour schemes even today.
Chrysler, Walter Percy (1875-1940) – A machinist, railroad mechanic and entrepreneur, Walter Chrysler made his name at Buick (where he became one of the highest paid executive officers in the world) before he founded the Chrysler Corporation.
Churchill, Lord Randolph Henry Spencer (1849-1895) – Born at Blenheim Palace, Oxfordshire, Randolph Churchill was educated for a time at Eton. He entered politics and became Leader of the House of Commons, and later Chancellor of the Exchequer, but his political career courted controversy. Nevertheless, Randolph sired possibly the most recognisable politician in the world, Sir Winston Churchill (see below).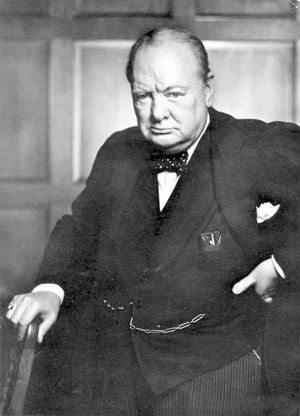 A man of extraordinary drive, Sir Winston Churchill can be credited with steering the war to defeat Nazi tyranny and Japanese expansionism.
Churchill, Sir Winston Leonard Spencer- (1874-1965) – Without doubt, THE most famous British politician and statesman, in history, Winston Churchill was Prime Minister of Great Britain twice, 1940-1945 and 1951-1955. He was also a soldier, historian, writer and artist. His early political career was chequered, especially during World War I, when the ill fated Gallipoli Campaign of 1915 cost the lives of many New Zealand and Australian soldiers, and forced his resignation. Finally however, "cometh the hour, cometh the man" and, during the Second World War, as an orator without peer Churchill's inspiration (and political manoeuvring) without doubt drove the British Empire and its Allies on to survive the onslaught of Nazi tyranny and Japanese aggression. For his exceptional contribution to the Allied victory, he was made an honorary citizen of the U.S.A. He was a member of lodges Studholme Alliance No.1591 and Rosemary Lodge No.2851, but The Churchill Society claim that he resigned from his lodges in 1912.
Citroën, André-Gustave (1878-1935) – Citroën was a French-Jewish engineer and automobile manufacturer, his legacy continues to this day as, in the skilled hands of drivers like Sébastien Loeb, Citroën cars dominate the World Rally Championships. Andre-Gustave Citroen was a member of Lodge La Philosophie in Paris.
Clark, Mark Wayne (1896-1984) – The U.S. Army General who commanded the American 5th Army when it made its initial landings on the Italian mainland, Mark Clark later commanded the 15th Army Group consisting of the British 8th and American 5th Armies as it effected the conquest of Italy. The Mystic Tie Lodge No.398 in Indianapolis was Clark's Masonic lodge.
Clark, William (1770-1838) – A pioneer explorer and frontier politician, William Clark was joined by another Freemason, Meriwether Lewis, on the Lewis & Clark Expedition (1804-6), the first overland exploration of the American West and Pacific Northwest; Clark being responsible for careful mapmaking. He later served as native American agent and governor of the Missouri Territory (1813-1821). Brother Clark belonged to Saint Louis Lodge No.111.
Clemens, Samuel Langhorne (Pen name: Mark Twain) (1835-1910) – Writing as 'Mark Twain' this American novelist and humorist's masterful works include the world famous characters of 'Tom Sawyer' and 'Huckleberry Finn'. Samuel Clemens was a member of Polar Star Lodge No.79, A.F.& A.M., St. Louis, Missouri. (He was once suspended for non-payment of dues but later, on 24 April 1867, was reinstated.) Clemens was demitted October 1867, but is recorded as having visited Carson City Lodge U.D. in February and March 1868.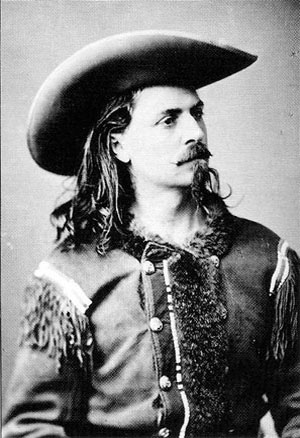 Buffalo Bill a legendary soldier and human rights advocate.
Cody, William Frederick 'Buffalo Bill' (1846-1917) – Buffalo Bill Cody was the legendary soldier, bison hunter, scout and showman, who founded 'The Wild West Show' that toured American and Europe. Despite his wild background, Cody was an advocate of rights for American Indians and, way before his time, for women. He was also an early conservationist.
Cody was raised in Platte Valley Lodge No.15, Nebraska.
Cole, Nat 'King' (Given name: Nathaniel Adams Cole) (1919-1965) – An outstanding pianist and ballad singer with a resonant, mellifluous voice, Nat King Cole was one of the first black American entertainers to host a TV show and his world wide popularity endures even today.
Cole had mammoth hits with timeless songs like 'Mona Lisa' (1950); 'Unforgettable'(1951) and 'When I Fall in Love' (1952/1956).
Collodi, Carlo (1826-1890) (Carlo Collodi was the pen name of Carlo Lorenzini, creator of 'Pinocchio'.) (See Lorenzini below.)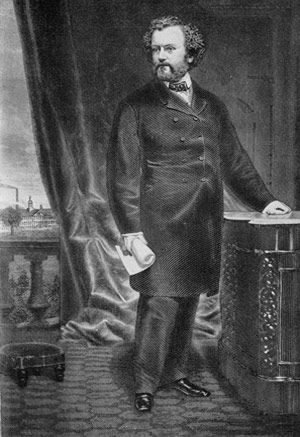 Colt was a firearms inventor and manufacturer who designed the first practical revolving chambered percussion pistol.
Colt, Samuel (1814-1862) – Colt was a firearms inventor and manufacturer who designed the first practical revolving chambered percussion pistol, the 'Paterson' in 1836. He realised early that to keep costs down all of the weapon's parts aught to be machine made and interchangeable, leading to the 'assembly line', long before Henry Ford (see below) utilized the method. His first big order came through Texas Ranger, Captain Samuel Walker in 1847, who requested 1,000 'revolvers'. By the time of his death, Colt's estate was valued at US$15,000,000 – and that was in 1862 – a vast sum even today. Colt's pistols became so widely available that the phrase was coined:
"God didn't make all men equal – Samuel Colt did!"
Compton, Denis Charles Scott (1918-1997) – The brother of footballer Leslie Compton (see below), Denis Compton was an English cricketer who played in 78 Test matches, spending the whole of his cricket career with Middlesex. Like his brother he was also a gifted footballer and played for Arsenal Football Club. His Test debut was againstNew Zealand in 1937, and his first century came in only his second Test against Don Bradman's (see above) Australian touring side in 1938. Compton's dashing approach to batting, and the sheer enjoyment he exuded, endeared him to a generation of cricket lovers. In 1947 he thrilled a war-weary English public by breaking record after record, in getting 3,816 runs; he scored 18 centuries.
In 2009 Denis Compton was inducted into the I.C.C. Cricket Hall of Fame.
Compton, Leslie Harry (1912-1984) – Leslie Compton was an English footballer and cricketer who played for Arsenal and Middlesex respectively. His brother, Denis Compton (see above), was also a footballer and cricketer for Arsenal and Middlesex, though Leslie was more successful in football and Denis in cricket. Together with his brother, he won the 1947 County Championship title with Middlesex, making them the only brothers ever to have won the national title both in football and cricket.
Compton, Spencer Douglas David – The Most Honourable, 7th Marquess of Northampton (1946- ) – 'Spenny' Compton is said to be Britain's wealthiest Buddhist and, in 2006 with an estimated £70 million, was ranked 701st in 'The Sunday Times Rich List'. In November 1993, the State Supreme Court in New York confirmed Compton's claim to the ownership of the Sevso Treasure, a hoard of late Roman Empire silver. Compton served as the Provincial Grand Master of the United Grand Lodge of England from 2001 until March 2009.
Corbett, Harry H. (Born: Harold Corbett) (1925-1982) – The son of a British Army officer, Harold Corbett was born in Rangoon, Burma but his mother died when he was three and he was sent to Manchester, England, were he was brought up. He served in the Royal Marines in World War II and, after the war, turned to acting. Corbett began his career as a serious actor and, in the early 1950s added the 'H' (which meant nothing) to his stage name, thus becoming Harry H. Corbett. Extremely skilful in character, he was dubbed "the English Brando" by some sections of the British press. Corbett is most famous, however, for his comedic role as the long-suffering 'Harold Steptoe' (starring alongside Wilfred Bramble as 'Albert Steptoe') in the British TV comedy series 'Steptoe and Son', which ran, with breaks, from 1962 until 1974. The character of 'Harold Steptoe' though became a curse from which Corbett found escape almost impossible, – to the detriment of his later career. Harry Corbett was awarded an OBE in 1976. Bro. Corbett was a member of Chevin Lodge No. 6848, England.
Courcey, Roger De (1944- ) – (See De Courcey below.)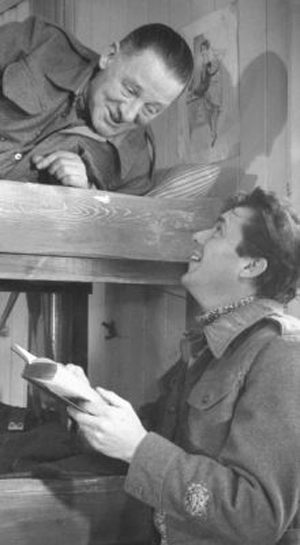 The real Charles Coward talks with actor Dirk Bogarde, who played the hero in the 1962 film 'The Password is Courage'.

Coward, Charles Joseph (1905-1976) – This member of Camberwell Old Comrades Lodge No.4077, UGLE, was named 'The Count of Auschwitz' for saving the lives of an unknown number of Jewish inmates of the infamous concentration camp. Charles Coward was awarded the Israeli Peace medal; one of only two British citizens to be so honoured – the other recipient being Sir Winston Churchill, also a Freemason.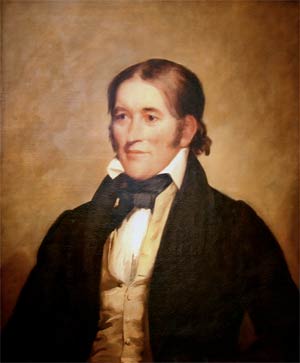 If one studies his life story it is easy to see why Davy Crockett is revered as 'The King of the Wild Frontier'.
Crockett, David 'Davy' (1786-1836) – A 19th Century American folk hero, Davy Crockett was a frontiersman, soldier and politician and a U.S. Representative from Tennessee, who joined the Texas revolutionaries fighting for independence from Mexico. Along with other Masonic brethren, he died fighting against overwhelming odds (2,400 Mexican soldiers against 164 defending 'Texians') at the siege of 'The Alamo' on 6 March 1836. (See also Bowie and Travis.)
D
Darwin, Erasmus (1731-1802) – Born in Nottinghamshire, England, Erasmus Darwin was a physician, philosopher and poet. A man of exceptional intelligence and foresight (he designed a hydrogen / oxygen fuelled rocket back in 1779 !), he was the grandfather of Charles Darwin. Darwin was a member of Canongate Kilwinning Lodge No.2, Scotland.
Comedian Jim Davidson was awarded the OBE for entertaining NATO troops abroad.

Picure
: COPYRIGHT © BBC
Davidson, Cameron James 'Jim' (1953- ) – Jim Davidson is a well known British comedian, actor and TV presenter. He was the former Master of Chelsea Lodge in London but resigned that role to become the founding Master of British Forces Foundation (Lodge) No. 9725. In 2001, he was awarded an OBE for "services to the entertainment industry", especially entertaining British troops on active service abroad, a capacity he retains even today.
Dean, William Ralph 'Dixie' (1907-1980) – Dixie Dean is a revered Everton and England footballer who was active from 1925 through to 1937. While playing for Everton, Dean scored 60 goals in the 1927-28 season – a record which remains unbroken. Indeed, overall he scored 383 goals in 433 appearances, which is a phenomenally high strike rate. Dean received 16 international Caps and scored 18 times for England too! A long-time Freemason, Dean was initiated in Randle Holme Lodge, No.3261, Birkenhead near Liverpool on 18 February 1931.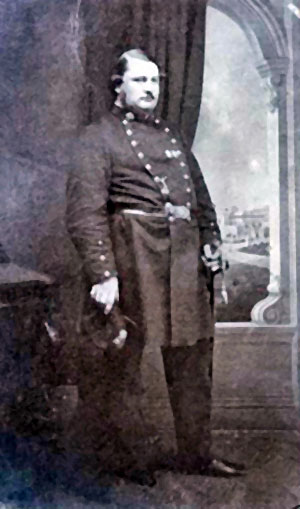 Major Henry De Burgh Adams was a zealous supporter of Irish Freemasonry.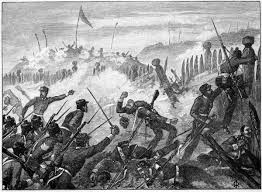 De Burgh Adams was Quartermaster during the Taranaki Land wars.

De Burgh Adams, Rt.W.Bro. Major Henry (1830-1869 ) – Provincial Grand Master of New Zealand (Irish Constitution) – Henry De Burgh Adams was Principal Purveyor to the Army when stationed in New Zealand and carried the rank of Major. (In modern times he would probably be a Quartermaster-General.) He took part in the Crimean War (1853-1856) and was at the Siege of Sevastopol.
Born in Canada in 1830, his family moved to Ireland and he became a member of the Victoria Lodge No. IV, Dublin, where he was registered a Master Mason in 1852. On coming to New Zealand in 1857, he affiliated with Ara Lodge No. 348 in the Irish Constitution. He was four years in New Zealand before taking office in Ara Lodge, no doubt due to being in different parts of the country on military duties. Eventually, he became Secretary of Ara for two and a half years, Master in 1861 and Treasurer in 1864-65.
On the formation of Provincial Grand Lodge of New Zealand, De Burgh Adams was appointed Deputy Provincial Grand Master and, on the resignation of Brother Cormack Patrick O'Rafferty, C.E., he took over the ruling of Provincial Grand Lodge. (In reality Bro. O'Rafferty never took up his Office as he had moved to Melbourne prior to his appointment and the Province was run by Bro. De Burgh Adams from its inception.)
As Deputy Provincial Grand Master, De Burgh Adams issued a Dispensation for the creation of Lodge Onehunga No 420 (with himself as Master) in 1863, followed by United Service Lodge No 421 in 1864. He is also credited with forming Alpha Cambridge Lodge No. 449.
The Irish Lodge in New Plymouth, "De Burgh Adams Lodge", was formed in his honour in 1865, but the records show that he never actually visited it, although he assisted it financially both whilst in New Zealand and after leaving for London.
When the regiment was recalled to England in 1868, De Burgh Adams went with it, but sadly he died in London the following year from complications caused by a ruptured stomach ulcer at the age of only 39 years, leaving a widow and six children.
He was also the only Freemason to have a Lodge named after him in his lifetime. De Burgh Adams Lodge No 446 I.C. still labours in New Plymouth, New Zealand and has recently celebrated its sesquicentennial. Thus his invaluable contribution to Irish Freemasonry in New Zealand is ever remembered.
De Courcey, Roger (1944- ) – Roger De Courcey is a British ventriloquist and comedian best known for performing with his puppet 'Nookie Bear'. It was a slow road to stardom for London-born De Courcey but, in 1976, he won the 'New Faces' televised talent competition grand final and his career took off. He has performed on the West End stage, in productions of musicals like 'Sweet Charity', 'Two Cities' and 'Company', and at the London Palladium, including the 1976 Royal Variety Performance in the presence of Queen Elizabeth, the Queen Mother. Brother DeCourcey is a member of Chelsea Lodge No.3098, London.
DeMille, Cecil Blount (1881-1959) – A blockbuster film director of the 1920's and through to the 50's, in 1914 Cecil B. DeMille directed the first Hollywood film, 'The Squaw Man'. He became the creative genius behind Paramount Pictures and was integral to Hollywood's development as the film capitol of the world. He was renowned for the flamboyance and showmanship of his films, two of his greatest successes being the epics 'The Ten Commandments' (1923, which DeMille remade totally differently in 1956) and 'The Greatest Show on Earth', that won the Oscar® for Best Picture in 1952. DeMille was a Mason in the Prince of Orange Lodge No.16, New York City.
Dempsey, William Harrison 'Jack' (1895-1983) – In 1912 Jack Dempsey became a professional boxer and fought in more than 100 semi-pro and professional bouts before winning the heavyweight championship in 1919. He successfully defended his title five times before losing to Gene Tunney in an upset in 1926. In the rematch in 1927, Dempsey knocked Tunney down in the 7th Round but delayed going to a neutral corner, so the referee gave the controversial "long count" (estimated from 14 to 21 seconds) and Tunney went on to win on points. In the twilight of his career, Dempsey became a New York restaurant owner. Demsey's first lodge was Kenwood Lodge No.800 in Chicago.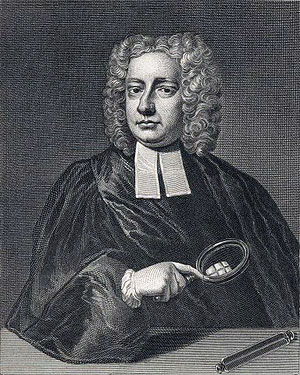 Freemason Rev. John Desaguliers avidly promoted Sir Isaac Newton's theories and their practical applications.

Desaguliers, John Theophilus (1683-1744) – John Desaguliers (Pronounced: day-zagüly- ay) was a French Freemason and natural philosopher. On 29 July 1714, he was elected a member of The Royal Society of London, and progressed to be presented with the Royal Society's highest honour, the Copley Medal, in 1734, 1736 and 1741, with the 1741 award being for his discovery of the properties of electricity. He studied at Oxford, became experimental assistant to Freemason Sir Isaac Newton (see below) and later popularized Newtonian theories and their practical applications.
Amazingly, Desaguliers has been credited as the inventor of the planetarium, on the basis of some plans he published. He was the first to apply scientific principles to the use of cannon and gunnery and was Chief Firemaster at the Arsenal, London. An ardent Freemason, Desaguliers was elected the third Grand Master in 1719, and was Deputy Grand Master in 1723 and 1725 of the newly formed Premier Grand Lodge of England(see also Anthony Sayer below). In which capacity he oversaw the publication of the first Masonic Book of Constitutions in the world. It was said of Desaguliers, "Of all those who were engaged in the revival of Freemasonry in the beginning of the Eighteenth Century, none performed a more important part than he to whom may be well applied the epithet of 'The Father of Modern speculative Freemasonry', and to whom, perhaps, more than any other person, is the present Grand Lodge of England indebted for its existence."
Dole, Robert Joseph 'Bob' (1923- ) – A decorated (and wounded) veteran of World War Two, Bob Dole was a U.S. Congressman and Senator from Kansas (1961–96). Dole has been the Majority and Minority Leader, a U.S. Senator and, in 1996, a nominee for President of the U.S.A. Brother Dole has never deviated from his basic track; constantly a humanitarian, philanthropist and stalwart Freemason – a member of Russell Lodge No.177, Kansas.
Doolittle, General James (1896-1993) – A pioneer aviator in the 1930's, Jimmy Doolittle was the first to test several instruments now universally found in aircraft, such as the 'artificial horizon' and the 'directional gyroscope'. A natural and gifted pilot, this Freemason led the daring 'Doolittle Raid' on Tokyo in 1942. This particular bombing raid undoubtedly helped shorten the war in the Pacific as it caused the Empire of Japan to hold many fighting men in reserve to defend their previously "untouchable" homeland. He won the Medal of Honor for his leadership in this action. By January 1944, he had risen to command the U.S. Eighth Air Force in Europe and in this role Doolittle did much to hasten the demise of the German Luftwaffe in the last 16 months of the Second World War, even assisting with the devising of strategy to combat the new-to-warfare German jet propelled fighters, like the fast and deadly Messerschmitt ME 262.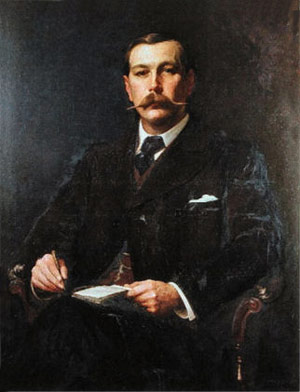 Sherlock Holmes Creator – Sir Arthur Doyle

Doyle, Sir Arthur Ignatius Conan (1859-1930) – Born in Edinburgh and educated at Stonyhurst College, Lancashire, Doyle was a physician and the author responsible for creating the world's most famous detective, 'Sherlock Holmes'.
Dunant, Jean Henri (1828-1910) – Dunant was a Swiss businessman and social activist and, although his Masonic membership is often written about, it proves difficult to attest, however this likely Freemason was the philanthropist who, in 1863, having seen first hand the horrors of the wounded soldiers at the Battle of Solferino in Italy (1859), was inspired to found the 'Red Cross'. In 1901, Dunant was the recipient of the first ever Nobel Peace Prize.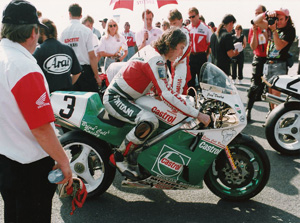 King of the Isle of Man TT circuit, Joey Dunlop was a racing legend, dedicated Freemason and carer for the less fortunate.
PHOTO: COPYRIGHT © Christof Berger

Dunlop, William Joseph 'Joey' (1952-2000) – Born in Ballymoney, Northern Ireland and known to his fans worldwide simply as 'Joey', this World Champion motorcycle racer is best known for his domination at the dangerous Isle of Man TT Circuit at which he won 26 times. In 2005 he was posthumously voted the fifth greatest motorcycling icon ever by the UK's Motorcycle News (MCN) magazine. Awarded the Order of the British Empire (OBE) for his humanitarian work for children in Romanian orphanages (to whom he would bring clothing and toys), Joey was a dedicated Mason and visited Lodges throughout the world when he was on his travels, be it races or his charity work. Always a fierce competitor and having won the 750cc and 600cc races that day, Brother Dunlop was sadly killed instantly racing in the125 event when he hit trees at the circuit at Tallinn, Estonia on 2 July 2000.
MUST READ