Famous Freemasons (A – Z) – THE END
Q
Quezon y Molina, Manuel Luis (1878-1944) – Quezon was the first President of the Commonwealth of the Philippines (1935-1944) under U.S. occupation rule in the early period of the 20th century. Manuel Quezon was raised on 17 March 1908 in Sinukuan Lodge No.272 (renamed Sinukuan Lodge No.16) and became the first Filipino Grand Master of the Grand Lodge of the Philippine Islands that was established in 1917.
R
Raffles, Sir Thomas Stamford Bindley (1781-1826) – A British statesman and the Freemason best known as "The Father of Singapore", Thomas Raffles was also heavily involved in the conquest of the Indonesian island of Java from Dutch and French military forces during the Napoleonic Wars and contributed to the expansion of the British Empire. He was raised on 5 July 1813 into Lodge De Vriendschap, Sourabaya.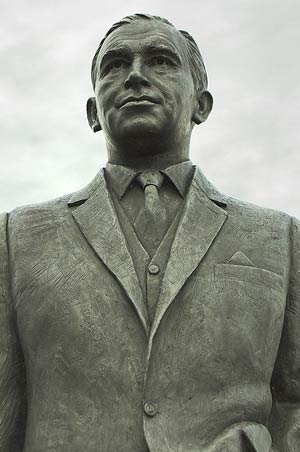 Alf Ramsey oversaw the victory of the England football team in the 1966 World Cup.

Ramsey, Sir Alfred Ernest 'Alf' (1920-1999) – In his early career, Alf Ramsey was a star player for Tottenham Hotspur and was capped for England 32 times (1948-1954). In 1963 he took over as manager of England, guiding the team to their historic 1966 World Cup 4-2 win against Germany. He was initiated into Waltham Abbey Lodge No.2750, Hertfordshire, England on the 5 October 1953 at the age of 33. Following his passing to The Grand Lodge Above in 1999, his widow, Lady Vickie Ramsey, donated his regalia to his Lodge and this is currently on display at the Masonic Hall in Chingford, Essex.
Rašín, Dr. Alois (1867-1923) – Czech Republic economist and resistance fighter, who helped to form Czechoslovakia, the first act of Czech law is in his handwriting. In 1923 Rašín was murdered; shot in the back by an anarchist, Josef Soupal.
Reid, Sir George Houstoun (1845-1918) – The 4th Prime Minister of Australia, George Reid was born in Renfrewshire, Scotland. He was more effective as Premier of New South Wales (NSW) (1894-1899) than as Prime Minister of Australia (1904-1905). Reid was a member of Lodge Centennial No.169, United Grand Lodge of NSW.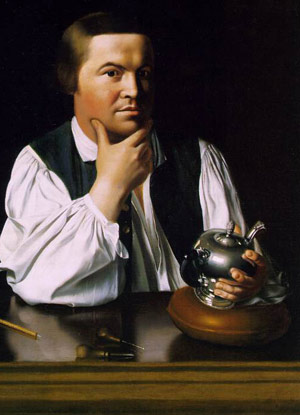 Paul Revere was a silversmith, early industrialist, and a famous patriot of the American Revolution.

Revere, Paul (1735-1818) – A silversmith, engraver and American Revolutionary hero, on April 18, 1775 Paul Revere made the epic horse ride, warning the American militia in Concord and Lexington about the advance of British Regular soldiers. The event was celebrated in a poem by Longfellow with its famous warning, "The British are coming!" Less dramatically however Revere, with quiet secrecy, actually warned the American Revolutionaries, "The 'Regulars' are coming out" [of their Boston barracks]. Revere was heavily involved with the Lodge of St. Andrews and Grand Master of the Grand Lodge of Massachusetts. He was also a friend of Freemasons James Otis and Joseph Warren Jr. (See below.)
Revie, Donald George 'Don' (1927-1989) – Having successfully played for several soccer clubs including Manchester City (1951-56), and managed Leeds United (1961- 1974) with whom he won the F.A. Cup in 1972 and the European Cup in 1973, Don Revie became the manager of the England football team between 1974 and 1977. Revie had been initiated into Leodiensis Lodge No.4029, in 1965.
Rhodes, Cecil John (1853-1902) – Rhodes was an English-born businessman, mining magnate, and politician in South Africa. He was the founder of the diamond company De Beers, which today markets 40% of the world's rough diamonds. At one time, how- ever, De Beers marketed 90%. An ardent believer in colonialism and imperialism, he was the founder of the state of Rhodesia; named after him. After independence, Rhodesia separated into the nations of Northern and Southern Rhodesia, later renamed Zambia and Zimbabwe, respectively, but neither state has prospered as well since. South Africa's Rhodes University is named after him and he set up the provisions of the 'Rhodes Scholarship'; funded by his estate. He remained a Freemason until his death in 1902.
Rhodes, Elisha Hunt (1842-1917) – Anyone who has seen U.S. filmmaker Ken Burns' epic PBS production 'The Civil War', will be familiar with the name of Elisha Hunt Rhodes as Brother Rhodes' war diary was one of the chief sources quoted throughout. In it, as a member of the Union Army of the Potomac, he speaks of an incident at Gettysburg where he witnessed Union soldiers retrieve the body of a 'Rebel' and pro- vide a proper burial as they had determined that the Confederate was a brother Freemason. Rhodes states that he did not understand these actions but within a year, he joined 'The Craft' while on leave in Rhode Island and, such was his dedication that he rose through Masonic ranks to become Grand Master of the Grand Lodge of Rhode Island (1892-1893).
Richet, Charles Robert (1850-1935) – A French physician, physiologist and metaphysician, Charles Richet was the co-discoverer of the medical phenomenon which he named anaphylaxis and, in 1913, received the Nobel Prize for physiology. His research also helped elucidate the phenomenon of hay fever, asthma and several other allergic reactions. Richet belonged to Lodge Cosmos under the Grand Lodge of France.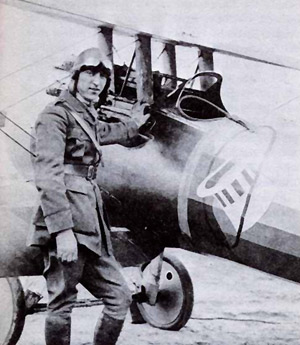 Eddie Rickenbacker was an American World War I fighter ace, a recipient of the Medal of Honor, and a pioneer in commercial aviation.

Rickenbacker, Edward Vernon 'Eddie' (1890-1973) – A World War I fighter ace and winner of the Medal of Honor, Eddie Rickenbacker became a pioneer in air transportation, he eventually served as president of Eastern Air Lines. Rickenbacker was a Mason in Kilwinning Lodge No. 297, Michigan.
Riley, Charles Owen Leaver (1854-1929) Born in Birmingham, England, Charles Riley was a dedicated clergyman and became the first Anglican Archbishop of Perth, Western Australia. Riley was also an enthusiastic Freemason, becoming the longest serving Grand Master of the District Grand Lodge of Western Australia between 1904 to 1917 and again from 1920 to 1929. Sir William Ellison-Macartney (see above) covered a three year gap (1917-1920), partly caused by Riley's service during The Great War.
Ringling Brothers – This famous circus family benefited Freemasonry with the mem- bership of all of its seven sons, and even their father too! Five of the Ringling Brothers started the Ringling Brothers Circus in 1870 with two other brothers, Henry and Augustus joining later. At one time, John Nicholas Ringling had become one of the richest men in the world, with property in Florida and a large collection of art, but the Great Depression (1929-1939) robbed him of most of his fortune. This gathering of famous Ringling brethren was:
Albert Charles 'Al' Ringling (1852–1916);
Augustus Gustav 'Gus' Ringling, Jr. (1854–1907) (Joined the circus in 1889.);
William Henry Otto 'Otto' Ringling (1858–1911);
Alfred Theodore 'Alf' Ringling (1861–1919);
Charles Edward 'Charley' Ringling (1863–1926);
John Nicholas Ringling (1866–1936) and
Henry William George Ringling (1868–1918). (Joined the Brothers' circus in 1886.)
Their father, Heinrich Friedrich August Ringling (1826-1898), was from Hanover, Germany and was also a Freemason. All seven brothers and their father, August Ringling, were members of Baraboo Lodge No. 34, Baraboo, Wisconsin.
Roberts VC, Sir Frederick Sleigh 'Bobs' – Field Marshall, The Right Honourable, 1st Earl Roberts of Kandahar (1832-1914) – Bobs Roberts was a distinguished British soldier who regarded himself as Anglo-Irish, yet he was actually born in India. Having already won the Victoria Cross (VC) in 1858, during the Indian Rebellion, Roberts was one of the most successful commanders of the Victorian era, capturing Kabul from the Afghan emir, whose forces he finally defeated at the 'Battle of Kandahar' in 1880. Roberts also commanded the British Army during the Second Boer War, relieving Kimberly in 1899 and advancing on Pretoria. (Remarkably, Roberts' son also won a VC during the Boer War but, following the action, died of his wounds.) Bobs Roberts himself died while visiting Indian troops in France during World War I.
Robinson, 'Sugar Ray' (Real name: Walker Smith Jr.) (1921-1989) – Sugar Ray Robinson was a celebrated American boxer who became a World Champion six times – once as a welterweight and five times as a middleweight. He won or drew 179 of his 200 professional fights. Robinson belonged to Joppa Lodge No. 55 in New York City.
Rogers, Roy (Real name: Leonard Franklin Slye) (1911-1998) – Dubbed "King of the Cowboys", Roy Rogers was the typical 'all-American' actor and singer who played a singing cowboy in Western films. Always wearing a white hat, Rogers played the hero who never killed his opponent but rather would shoot him in the hand to disable him. Roy Rogers was a member of Hollywood Lodge No.355, California, and has proudly displayed on his Masonically inscribed gravestone, the Cross of his faith and his 33rd Degree Masonic emblem.
Rogers, William Penn Adair 'Will' (1879-1935) – Will Rogers was an actor, comedian, columnist and radio personality, noted for his wry, homespun commentary on society and politics. Rogers, a master horseman, was also immensely skilled with a lasso, so-much-so that he made it into the Guinness Book of Records for accurately throwing three whirling lassos all at once. He championed the expanse of air connection within the U.S.A. but was ironically killed, along with his friend and pioneer aviator, Wiley Post, in a take-off accident in Alaska in 1935. Rogers attended Claremore Lodge No.53 in Oklahoma.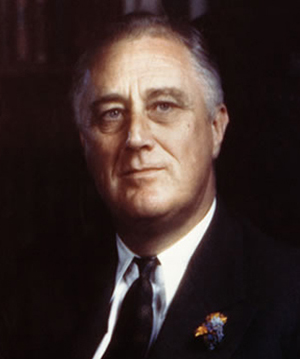 So effective was he as a leader that Franklin D. Roosevelt is the only U.S. President to be elected for four terms in office.

Roosevelt, Franklin Delano (1882-1945) – 32nd President of the United States, Franklin D. Roosevelt was the only president to be re-elected four times. Also known as 'FDR', he brought his country out of the Great Depression, guided them through World War II but, by early 1945, he was a very sick man. He died on April 12, just 18 days before his by then defeated enemy, Adolf Hitler. Referring to his guidance prior to, and during, the Second World War 'The New York Times' newspaper declared, "Men will thank God on their knees a hundred years from now that Franklin D. Roosevelt was in the White House". He was initiated into Freemasonry on 11th October 1911 as a member of Holland Lodge No.8, New York City. FDR became a Shriner in 1930. Franklin D. Roosevelt was succeeded as President in 1945 by another Freemason, Harry S. Truman (see below).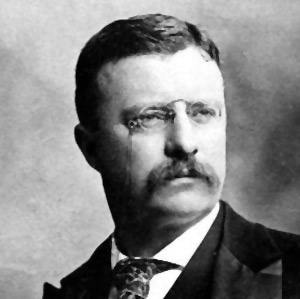 Theodore Roosevelt said he was "half Irish and half Dutch." As a diplomat, he was characterized by the famous slogan, 'Speak softly and carry a big stick.'

Roosevelt, Theodore (1858-1919) – 26th President of the U.S.A., Theodore Roosevelt was a hero of the Spanish-American War and an energetic leader with a wide range of interests. He had a 'cowboy' image of robust masculinity that he probably fostered to cloud the fact that he did not enjoy perfect health – especially as a child. When, in 1901, President William McKinley (see above) was assassinated, Theodore Roosevelt became the new U.S. president. In 1906, he also won the Nobel Peace Prize. Freemason, Franklin D. Roosevelt (see above), the outstanding President of pre-WWII and wartime America, was Theodore's 5th cousin, though Theodore was more closely related to Franklin's wife, Eleanor, who was his niece. Theodore Roosevelt was very supportive of Freemasonry and was a member of Matinecock Lodge No.806, Oyster Bay, New York.
Ros, Edmundo (1910-2011) – Edmundo Ros was born on the 7 December 1910 in Port of Spain, Trinidad. Following service with the army and playing the euphonium in an army band, Ros went on to become a renowned musician, vocalist and band leader, active from 1939 to 1975. While on tour in 1975, he dissolved his orchestra when Musician's Union representatives went behind his back while arranging booking fees. A man of honour, Ros felt so insulted and let down that he never reformed the band. In 2000, at the age of 90, Ros was awarded the OBE in the New Year's Honours List. He passed to The Grand Lodge Above on 21 October 2011 aged 100. Edmundo Ros was a member of the Sprig of Acacia Lodge No. 41, Jávea, Spain.
Rose, Sir Alec (1908-1991) – Born in Canterbury, England, Alec Rose was a horticultural nursery owner and fruit merchant, certainly an unlikely background from which to become a single-handed, round the world yachtsman. In 1968, however, Rose was knighted by Queen Elizabeth II, for doing just that, circumnavigating the world single-handed in 354 days in the yacht 'Lively Lady'.
de Rothschild, James Mayer (Born: Jakob Mayer Rothschild) (1792-1868) – Born in Frankfurt-am-Main, Germany on 15 May 1792, James de Rothschild was the fifth son and youngest child of Mayer Amschel Rothschild (1744-1812). Mayer sent each of his five sons to a prominent European commercial centre in order to found branches of the family banking empire; de Rothschild therefore moved to Paris in 1811 and in 1817 expanded the family banking empire to the city, opening de Rothschild Frères. An advisor to two kings of France, he became the most powerful banker in the country and following the Napoleonic Wars, played a major role in financing the construction of railroads and the mining business that helped make France an industrial power. Along the way, he added to his fortune with investments in such things as the importation of tea and the purchase of a vineyard (Château Lafite Rothschild). A strong-willed and shrewd businessman, James de Rothschild amassed a fortune that probably made him the richest man in the world. The family's wealth was so astounding as to be hard to believe. It is estimated that in today's money, James de Rothschild's personal fortune (not including the wealth of his other family members) was alone at least five times the fortune accumulated by Bill Gates. Rothschild was initiated on 24 October 1802 into Emulation Lodge No.12, London.
Rowan, Archibald Hamilton (1751-1834) – Although born in London, Archibald Rowan was an Irish celebrity and founding member of the Dublin Society of United Irishmen. Rowan was a champion of the poor and underprivileged, but his radical views got him imprisoned. He escaped and fled to France, where he met Robespierre, and was caught up in the French Revolution. Next he fled to America, and was then caught up in the American Revolution. Following petitioning by his wife, Rowan was pardoned in 1803 and lived to old age – unlike many of his revolutionary associates.
Rudolph, Donald Eugene (1921-2006) – During the war in the Pacific, Don Rudolph received a Medal of Honor (the U.S.A.'s highest award for military gallantry) for heroic action during action on Luzon in the Philippines. On 5th February 1945, armed with a rifle and grenades, he first cleared a trench of enemy soldiers pinning down his section. In steady sequence he then neutralized, eight enemy machine gun posts and finally destroyed a Japanese tank that threatened his men. He was promoted to Second Lieutenant in the field and later wounded by shrapnel. Rudolph was an active member of Minnesota Chapter No. 25 National Sojourners, until just before his death in May, 2006.
Rusk, John W. – American patriot, John Rusk gained national prominence portraying 'Uncle Sam', as a regular fixture in any event involving Washington DC, dressed in his striped pants, top hat and stilts.
S
Salten, Felix (Given name: Seigmund Salzmann) (1869-1945) – Born in Budapest, Salten lived for much of his life in Austria, writing for many Viennese publications. In 1923, as a story for adults, he created the character of the fawn 'Bambi'. In 1936 the Nazis banned and burned the book as being pro-Jewish propaganda. The rights to the children's version were fought over for many years after Salten's death.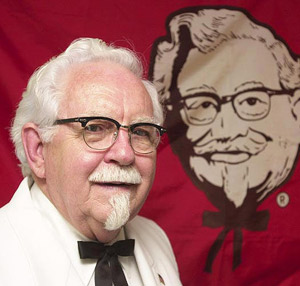 The founder of the KFC food chain, 'Colonel' Harland Sandersestablished a foundation which aids charities with more than a million dollars in grants each year.

Sanders, Harland David 'Colonel' (1890-1980) – 'Colonel' Harland Sanders' Kentucky Fried Chicken (KFC) outlets are found world-wide. He perfected his "original recipe of 11 secret herbs and spices" in 1939. Sanders was also the mentor of fellow Freemason Dave Thomas (see below), of Wendy's restaurants fame. When he died in 1980, his body laid in state in the Rotunda of the Kentucky State Capital.
San Martin, Jose de (Given name: Jose Francisco de San Martin Gomez y Matorras) (1778-1850) – San Martin was an Argentine General and the prime leader of the southern part of South America's successful struggle for independence from Spain. At the early age of seven he left Argentina and studied in an aristocratic school in Madrid, Spain, where he met and befriended Chilean freedom fighter Bernardo O'Higgins (see above). In 1808, he fought with Spanish forces in the Peninsular War against the French, and then returned to Argentina to fight for its independence from Spain. Following a "this town ain't big enough for the two of us" type disagreement with Simón Bolívar (see above) San Martin left the country and its politics and did not return.
Santa Anna, López de (Given name: Antonio de Padua María Severino López de Santa Anna y Pérez de Lebrón) (1794-1876) – Most well known as Santa Anna, the Mexican General who so brutally defeated the 'Texian' defenders at the 'Siege of the Alamo' on 6 March 1836, he was a Mexican political leader, General, and president who greatly influenced early Mexican and Spanish politics and government. Santa Anna first fought against the independence from Spain, and then supported it. He was not the first Caudillo (military leader) of Mexico, but he was among the most original. He rose to the ranks of General and president at various times over a turbulent 40 year career. He was President of Mexico on eleven non-consecutive occasions over a period of 22 years.
Sarnoff, David (1891-1971) – This Russian-born broadcasting executive did much to promote broadcasting around the world. In America Sarnoff started as an office work- er with Marconi Wireless Telegraph Company, later absorbed by the Radio Corporation of America (RCA). Rising to the top ranks of RCA, he organized the National Broadcasting Company (NBC) as part of RCA, and NBC became the first permanent broadcasting network. It was Sarnoff who first envisioned "broadcasting", that is, radio for the masses, not individual to individual. He did the same with television, which he also helped to pioneer.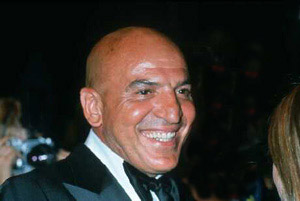 Who loves ya, baby. Telly Savalas was a gifted actor and proud Freemason.
Photo: Copyright © www.tellysavalas.com

Savalas, Aristotelis 'Telly' (1922-1994) – Telly Savalas was a charismatic actor who became most famous as the bald, lollypop sucking, police detective, Kojak, who was tough on the outside but gentle inside. Savalas starred in numerous films including 'The Dirty Dozen' (1967) with Lee Marvin and 'Kelly's Heroes' (1970) with Clint Eastwood. His brother, George Savalas (1924-1985), was also an actor and Freemason.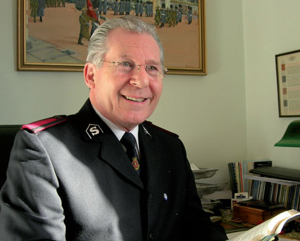 David Sawyer a committed member of the Salvation Army and a Freemason.

Sawyer, David (1940 – ) A committed member of the Salvation Army, David Sawyer was born on 19 February 1940 in York. He later became a full-time Minister and served as a Pastoral Minister in South Wales, Kent and Berkshire. David was appointed to the headquarters of the Salvation Army Men's Social Work Department in 1965 and served at their international headquarters before returning to the Men's Social Services for a further period after being appointed as the Private Secretary and Personal Assistant to the Director of Social Services for Great Britain and Ireland.
Sawyer became Education Officer with Buckinghamshire County Council and Head of the Education Welfare Service in Milton Keynes. Taking early retirement in 1992, he worked for a period time with the Independent Counselling and Advisory Service and later set up a chain of four charity shops for the Salvation Army. Somehow David also managed to fit in joining Milton Keynes General Hospital as a Care Manager.
In 1981 David Sawyer was initiated into the Lodge of Integrity No. 5149 in Chelmsford, Essex, England and rose to become Provincial Grand Chaplin in 2006. He was also exalted in Oliver Chapter No. 2812.
Schaefer, Julius Earl (1893-1978) – Julius Schaefer founded the Wichita company that later became the Boeing Aircraft Corporation's Wichita plant. He oversaw production of large volumes of aircraft during the Second World War, including 10,000 plus Boeing Kaydet trainers, and 1,165 Boeing B-29 Superfortress', the same type of bomber that dropped the atomic bombs on Japan and which brought World War Two to an end. Schaefer also moved into the jet-age by overseeing the production of the multi-engined, Boeing B-52 Stratofortress, an aeroplane capable of carrying a huge bomb load, and which is still in service today.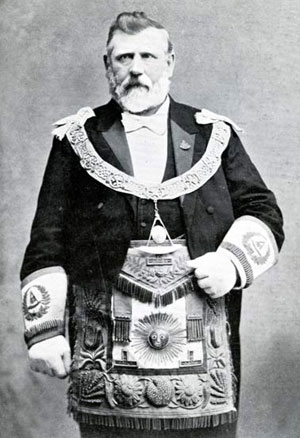 Seddon was born in Eccleston, St.Helens, Lancashire, but became New Zealands longest serving P.M.

Schirra, Walter Marty 'Wally' (1923-2007) – An astronaut who was made a "Mason at Sight" by the Grand Master of Masons of Florida, Wally Schirra carried several Masonic items with him on his Apollo 7 flight. He was the command pilot on the history-making Gemini 6 flight, which rendezvoused with the already orbiting Gemini 7 spacecraft, the first ever rendezvous of two manned, manœuvreable craft in space. Wally Shirra, won an 'Emmy' Award for pictures broadcast from space on the Apollo 7 mission, and was the only astronaut to fly in all three space programmes; Mercury, Gemini and Apollo.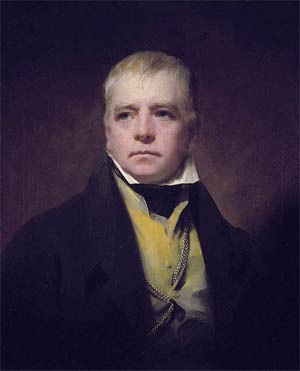 Scotsman, Sir Walter Scott, was a writer internationally famous within his own lifetime, especially for novels such as 'Ivanhoe' and 'Rob Roy'.

Scott, Sir Walter – 1st Baronet (1771-1832) – Sir Walter Scott was born in Edinburgh and, among many novels, he was the creator of 'Ivanhoe' (1819) and 'Rob Roy' (1817). The fascinating journal of this celebrated writer is an important record of the times in which he lived. As a writer of historical fiction, a playwright, and a poet, Scott was the first English language author to have a truly international career in his own lifetime, with many contemporary readers in Europe, Australia, and North America. Saint David Lodge No. 36 in Edinburgh was Sir Walter Scott's lodge.
Sciubba, Elvio (1915-2001) – Sciubba was a 33rd Degree Freemason and Chief Controller of the Italian Treasury Department.
Seddon, Richard John (1845-1906) – Originally born in Eccleston, St. Helens, Lancashire, England, Richard Seddon eventually became the longest serving Prime Minister of New Zealand and is regarded by some as being one of its greatest leaders (1893–1906). A dedicated Mason, Seddon served as Grand Master of New Zealand (1898–1900).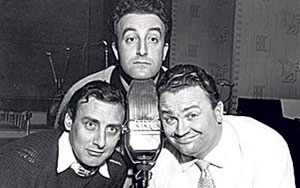 Together with Spike Milligan and Harry Secombe, Peter Sellers centre created a stellar pioneering comedy series, The Goon Show.

Sellers, Richard Henry 'Peter' (1925-1980) – An exceptional, internationally renowned, comedian and actor, Peter Sellers was a star of 'The Goon Show' alongside Spike Milligan and Harry Secombe. Sellars also portrayed the hilariously incompetent Inspector Clouseau in 'The Pink Panther' film series. In 1980 he received an Oscar® nomination for the film 'Being There', this was Sellers' third Oscar® nomination. Peter Sellers attended Chelsea Lodge No. 3098 of the United Grand Lodge of England.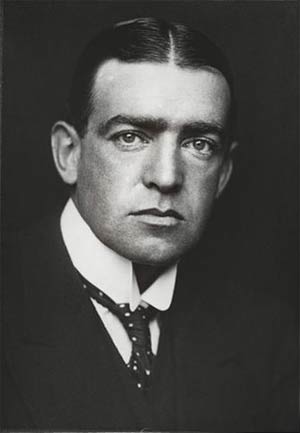 Irish explorer, Ernest Shackleton was one of the principle figures during period known as the Heroic Age of Antarctic Exploration.

Shackleton, Sir Ernest Henry (1874-1922) – This Irish-born explorer was one of the principle figures during the period of Antarctic exploration with his first major mission departing from Lyttelton Harbour, New Zealand in 1908. He went on to discover the magnetic south pole. His health was suspect and he died on his last expedition, he was buried on South Georgia.
Shackleton, Leonard Francis 'Len' (1922-2000) – Shackleton was an English foot- baller of the post-World War II period. His skill on the ball was such that he could tease the opposition while pleasing the crowd at the same time, as a result he became known as the 'Clown Prince of Football' and is generally regarded as one of English football's finest ever entertainers.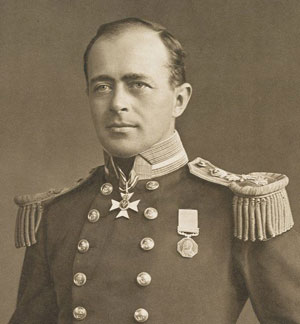 Scott of the Antarctic – There is a monument to this famous British explorer that overlooks Port Chalmers Harbour, Dunedin, NZ.

Scott, Robert Falcon – Captain, R.N. (1868-1912) – Captain Scott was an English Royal Navy officer and explorer who led two expeditions to the Antarctic regions: the Discovery Expedition (1901–04), and the ill-fated Terra Nova Expedition (1910–13). At a stage in this second venture, Scott led a party of five which reached the South Pole on 17 January 1912, only to find that they had been beaten to the prize by a Norwegian expedition led by Roald Amundsen. On their return journey, Scott and his four demor- alized comrades all perished from a combination of exhaustion, starvation and extreme cold. It was not until the support vessel Terra Nova reached Oamaru, New Zealand on the 10th February 1913, that news of their deaths became worldwide knowledge. (Related: see Ellison-Macartney above.)
Service, Robert William (1874-1958) – Born in Preston in the English County of Lancashire of Scottish parents, Robert Service actually made his name as a Canadian poet, after emigrating there in 1895. He was called 'The Bard of the Yukon' because of his writings about the Canadian north, and among his works are 'The Cremation of Sam McGee', 'The Shooting of Dan McGrew' and 'The Spell of the Yukon.' Service wrote 'escapism' poetry set in locales as distant as Afghanistan and New Zealand.
Sheridan, Richard Brinsley (1751-1816) – Born in Dublin, Ireland, Richard Sheridan was a playwright, poet and statesman and, from 1776, the owner of The Theatre Royal, Drury Lane, London. His most famous play is 'The School for Scandal' (1777). He served as a Whig in parliament for 32 years and was such was his esteem that, when he died, he was buried in Westminster Abbey.
Sibelius, Johan Julius Christian 'Jean' (1865-1957) – Having joined Suomi Lodge No.1, Helsinki, Finland, Brother Sibelius (the composer of 'Finlandia'), wrote several pieces of interest to Masons including 'Praising Hymn' and the 'Ode to Fraternity.' Indeed, Sibelius composed Masonic ritual music covering all degree work in Craft Lodges, such as Opus 113, Musique Religieuse, which is the only complete ritual music for organs.
Sloan, James – In 1796 in County Armagh, Ireland, James Sloan co-founded the Orange Order (also known as The Orange Lodge), a fraternal Irish Protestant organisation. This institution was loyal to the Dutch protestant Prince William of Orange, who became King William III of England in 1689. It was strongly anti-nationalist.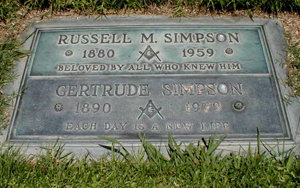 Actor Russell Simpson's Masonically engraved gravestone.

Simpson, Russell McCaskill (1880-1959) – Russell Simpson was a prolific American character actor who enjoyed a 45 year long career spanning 1914 to 1959. He first appeared in fellow Freemason Cecil B. DeMille's silent film 'The Virginian' in 1914 but Simpson is probably most known for his role as 'Pa Joad' in 'The Grapes of Wrath' (1940). His last film was 'The Horse Soldiers' (1959) starring John Wayne (see below) and William Holden. An active Freemason, "Beloved by all who knew him" is inscribed on Russell Simpson's Masonically engraved gravestone.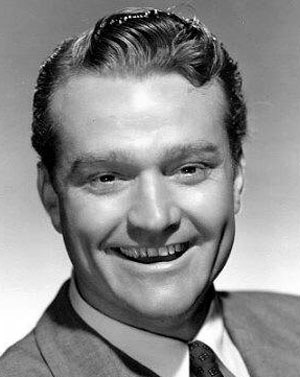 'Red' Skelton entertained on radio, cinema and TV from 1937 until 1971, while all the time he pursued an entirely separate career as a fine artist.

Skelton, Richard Bernard 'Red' (1913–1997) – Decades in the future, Red Skelton will be remembered for his hilarious family comedy, when others used obscenities to get a cheap laugh, he kept high standards and refused to follow. Skelton was a member of Vincennes Lodge No.1, Vincennes, Indiana, and was always playing the clown – even with his own Lodge members. An accomplished artist and painter, his 'clown' paintings are exceptional pieces of art, commanding high prices.
Smith, Joseph (1805-1844) – Joseph Smith was the founder of The Church of Latter Day Saints, which evolved into the Mormon Church, adherents of whom look on him as a prophet. Smith was a member of the Nauvoo Lodge, Illinois.
Smith, John Stafford (1750-1836) – Born in Gloucester, England, John Stafford Smith, wrote vocal music throughout his life but he is immortalised as being the writer of 'The Anacreontic Song' which became 'The Star-spangled Banner' – the national anthem of the United States of America.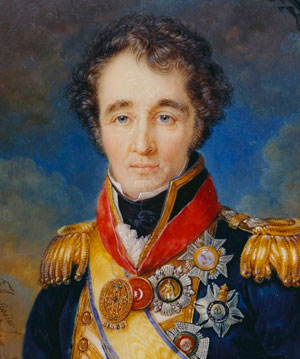 Reminiscing later in his life, Napoleon Bonaparte said of Admiral Sir Sydney Smith, "That man made me miss my destiny!"

Smith, Admiral Sir William Sidney (1764-1840) – Sidney Smith was the British admiral of whom Napoleon Bonaparte said, "That man made me miss my destiny". The remark followed Smith's imaginative and successful defence of Acre (On the coast of modern day Israel.) against the siege of 13,000 French Regulars led by Napoleon himself. Smith bombarded the French from the sea and from the town and, in May 1799, Napoleon withdrew. Smith served much of his naval career in the Mediterranean acting against Napoleonic forces. In the style of Admiral Nelson, Smith was a dynamic leader whose star should have shone brighter, but Nelson disliked Smith and Nelson's influence held back his career. In 1811, Smith was made a fellow of The Royal Society of London; a society formed from members of the "Invisible College" by Freemasons in November 1660.
Soane, Sir John (Given name: John Swan) (1753-1837) – Born in the English town of Whitchurch in Oxfordshire, John Soane was an architect who made his mark on the city of London as the designer of both The Bank of England and The Royal Hospital, Chelsea. In 1813 he was appointed the Superintendent of Works to the fraternity of Freemasons and a Fellow of The Royal Society of London in 1821. He was knighted in 1831 by King William IV (see below).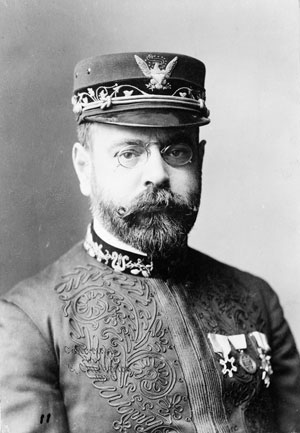 If ever you hear a rousing military march the chances are that it was written by American composer and conductor, John Philip Sousa.
Photograph: © Elmer Chickering

Sousa, John Philip (1854-1932) – An American composer and conductor of the late Romantic era and, as a band leader from 1880 – 1892 for the U.S. Marine Corps, John Sousa wrote numerous rousing marches. He will be remembered for composing American's "national march", 'The Stars and Stripes Forever', and 'The Liberty Bell' which will be better recognised as being the theme music chosen for the anarchic TV comedy show 'Monty Python's Flying Circus'. Hiram Lodge No. 10, Washington D.C. was where Sousa had his Masonic membership.
Spanos, Alexander Gus (1923- ) – Of Greek decent, owner of the San Diego Chargers professional football team and founder of 10 companies that bear his name, Brother Spanos is one of North America's greatest businessmen: a real estate developer and manager, Forbes rated him as worth 1.1 billion U.S. dollars in 2004. Seemingly totally out of context with his 'day-job', on several occasions Spanos sang and danced on stage with his close friend and golfing partner, English-born entertainer Bob Hope (see above).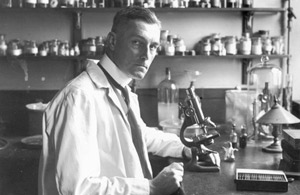 Sir Bernard Spilsbury was the 'Bones' of the early 20th Century, being a leading British pathologist whose ground breaking work solved many devious murders.

Spilsbury, Sir Bernard Henry (1877-1947) – A pioneer English pathologist, Bernard Spilsbury was skilled at determining the cause of death of many victims of murder. His cases read like a "Who's Who" of murderers and include Hawley Harvey Crippen; the Seddon Case; the Major Armstrong Poisonings; the "Brides in the Bath" murders by George Joseph Smith; Voisin; Vaquier; the Crumbles Murders; Norman Thorne; Donald Merrett; the Podmore Case; the Sidney Harry Fox Matricide; 'The Blazing Car Murder'; Mrs Barney; the Tony Mancini and the Vera Page Case. Spilsbury also had a critical role in developing 'Operation Mincemeat', a successful military deception plan executed during World War II, that ultimately saved the lives of thousands of Allied servicemen prior to the landings in Sicily (1943). This secret operation was immortalized in the book and film, 'The Man Who Never Was'. On the 15th June 1920, Bernard Spilsbury was initiated into Rahere Lodge No. 2546 (in England) and rose to become its Worshipful Master in 1932. For the remainder of his life, Spilsbury, captivated by the ethos of Freemasonry, was an enthusiastic Mason and joined a number of the higher degrees including Mark, within which he was advanced in 1923.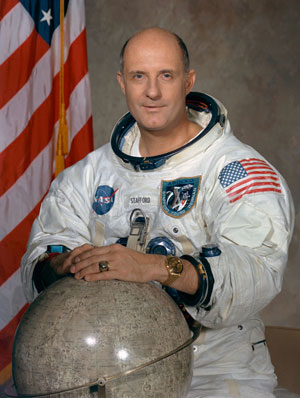 In 2011, Thomas Stafford received the USA's highest award in aeronautics, the Wright Brothers' Memorial Trophy.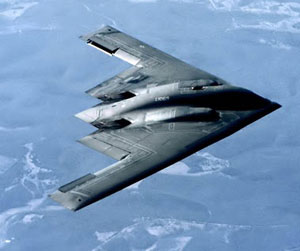 Lt. Gen. Stafford was involved in initiating the F-117A stealth fighter and the B-2 Spirit stealth bomber programmes.

Stafford, Lieutenant General Thomas Patten (1930 – ) Tom Stafford gained his pilots' wings in 1953 and, for a time, flew F-86D's Sabres on interceptor missions from Hahn air base in Germany, where he was a flight leader and flight test pilot.
In 1962 he was selected for training with the National Aeronautics and Space Administration (NASA), his rise was meteoric and, in 1965, Stafford piloted Gemini VIduring the first ever rendezvous in space. On 18th May 1969, as commander and test pilot of Apollo 10, a 180,000,000 horsepower Saturn V rocket catapulted Stafford into space, where he performed the entire dress rehearsal for the first lunar landing mission, orbiting the moon at in the lunar module 'Snoopy' at 15.6km – without actually landing on it! And, on earth re-entry (together with his crew, John Young and Eugene Cernan), he made it into The Guinness Book of Records for the highest speed ever attained by man – 39,897kph or 11km/s (24,791mph or 6.9 miles a second!).
During his career Thomas Stafford flew six in-space rendezvous, logged 507 hours of space flight, flew 127 different types of aircraft and helicopters, and four different types of spacecraft. Promoted to Lieutenant General in 1978, Stafford was personally involved in the planning for the F-117A Nighthawk stealth fighter and the B-2 Spirit stealth bomber.
The number and quality of his medals and awards are breath-taking. He was awarded the US Air Force's Lifetime Achievement Award, America's most prestigious award in aviation, the Wright Brothers' Memorial Trophy and, at the Kremlin in 2011, Russia's Medal for Merit in Space Exploration.
Following his retirement from the USAF in 1979, Stafford founded the technical consulting firm of Stafford, Burke and Hecker Inc. in Virginia, and also joined Seagate Technologies Inc. as a board director.
Lt. General Stafford belonged to Western Star Lodge No. 138, Weatherford, Oklahoma.
Stanford, Amasa Leland (1824-1893) – A pioneer railroad builder and government official, Stanford was a founder and president of the Central Pacific Railroad (1861- 1893), which made his fortune. Along with his wife, he founded and endowed Leland Stanford, Jr. University (1885) in memory of their only son, who died in 1884 at age 15. Stanford was the man famous for driving in the gold spike linking the United States' continent's coast-to-coast railroad lines.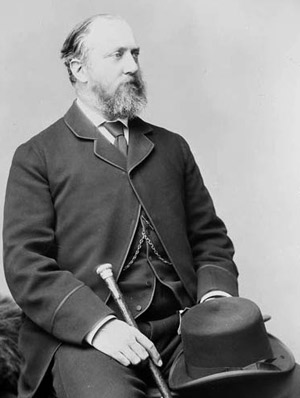 Frederick Arthur Stanley, pictured as the 6th Governor General of Canada. He inaugurated ice hockey's 'Stanley Cup' in 1892.

Stanley, Sir Frederick Arthur – 16th Earl of Derby, Lord Stanley of Preston (1841-1908) – Sir Fredrick Stanley was appointed Governor General of Canada by Queen Victoria in 1888. A keen sportsman, he marvelled at the prowess of the ice hockey players and originated the Stanley Cup to encourage winter sports in Canada. Today, it is the most important award in professional ice hockey given to the team winning the National Hockey League championship.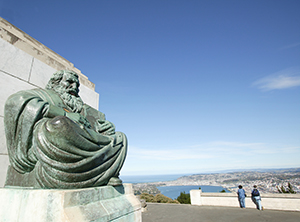 Fred Staub's sculpture, 'Old Father History' looks out over New Zealand's Dunedin Harbour landscape.
© Dunedinnz

Staub, Frederick Charles William 'Fred' (1919-2012) – Fred Staub was a well-known New Zealand artist, art educator and prominent Freemason. He worked at the Dunedin School of Art for 26-years between 1951 and 1977. Works by Fred are spread across the city of Dunedin; the iconic 'History' and 'The Thread of Life' sculptures perched on Signal Hill, were designed by the then elderly Lancastrian sculptor, Francis Aubrey Sturrock, who had previously been Fred Staub's art teacher. Although a joint effort, it was through Fred's substantial input that the works were realized because the construction of the figures was a complex business, requiring models of the statues to be scaled up from half-size to full-size, and these then dispatched to England to be cast in bronze. Both men's names appear on the finished monuments that are now enjoyed by the citizens of the attractive City of Dunedin, and visitors and tourists too.
In his Will, Fred Staub bequeathed a substantial amount to New Zealand's Otago Masonic Charitable Trust. It was his wish that this money be used for the purpose of art education in Otago, and thus the Fred Staub Open Art initiative was established. Funds are gifted twice a year to the Dunedin School of Art Foundation and aimed at promoting engagement with art in the Otago community. Today Fred Staub Open Art supports a programme of free public art seminars and exhibitions in Dunedin by artists from across the globe.
Stein, John 'Jock' (1922-1985) – A Scotsman through-and-through, Jock Stein dreamt of becoming the manager of Scotland's national football team. In his early years Jock was a solid, no nonsense player for Albion Rovers, and then, as captain of Celtic, he led them to Coronation Cup laurels (1953) and a League and Scottish Cup double in 1954. A severe ankle injury ended his playing career but he moved into management and at Hibernian, became their best ever manager, leading the Easter Road team to 1964 Summer Cup laurels and on to the top of the league (1965). Transferring to Celtic, Stein led them first to victory in the 1966 Scottish Cup and, in 1967; he took the European Cup from Italian giants, Inter Milan. In later conversation Bill Shankly said to Stein, "Well John, you're immortal now." (In 2002, the fans voted Stein "Celtic's greatest ever manager".)
In 1978, Jock Stein finally became manager of Scotland and, in 1982, qualified his national team for the FIFA World Cup. He was well on target for doing the same in 1986 but triumph turned to tragedy when, at the end of a qualifying 1-1 draw with Wales, Stein suffered a heart attack and died at the Ninian Park football stadium in Cardiff, aged 62.
Still, Andrew Taylor (1828-1917) – Andrew Still was a physician who, during the American Civil War, devised treatment of Osteopathy. By 1907 his 'modern' ideas of alternative medicine had spread to Britain, Australia and New Zealand.
Stukeley, William (1687-1765) – William Stukeley was an English antiquarian who pioneered the archaeological investigation of the prehistoric monuments of Stonehenge and Avebury, work for which he has been remembered as "…probably… the most important of the early forerunners of the discipline of archaeology". A member of The Royal Society, Stukeley was also one of the first biographers of fellow Freemason, Sir Isaac Newton (see above), of whom he was a friend. Stukeley met with his fellow brethren at Lodge Salutation Tavern, London.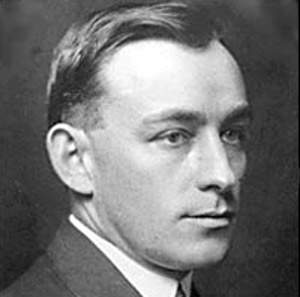 Harry Stutz became a roaring success with a car that roared through the 20's right to the present day, the Stutz Bearcat.

Stutz, Harry Clayton (1876-1930) – An entrepreneur, engineer and innovator, in 1911 Harry Stutz founded the Ideal Motor Car Company which, in 1912, became the Stutz Motor Company. The firm would become renowned for its classic cars built in the late 1920's and early 1930's, especially the stunning Stutz Bearcat, a car that looks good even in the 21st century! In 1919 Charles M. Schwab and two other inves- tors bought Harry Stutz's interest in the company. Stutz was a member of the Murat Shriners the ancient Landmarks Lodge No. 319, Indianapolis and a Knight Templar. (For Shriner see below.)
de Sucre, Antonio Jose y Alcala (1795-1830) – de Sucre became the second President of Bolivia following his service as a General under Simón Bolívar (see above) in Peru and, in 1825, was named President for life. He resigned three years later but was assassinated while travelling to Ecuador to be installed President of that country. de Sucre was well known for his efforts in the liberation of Ecuador, Peru and Bolivia.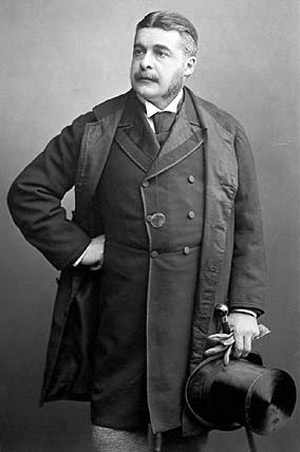 Of Irish and English decent, composer Arthur Sullivan, is best known for his series of 14 operatic collaborations with the dramatist W. S. Gilbert (see above).

Sullivan, Sir Arthur Seymour (1842-1900) – Of Irish and Italian descent, Arthur Sullivan is best known for his operatic collaborations with librettist W. S. Gilbert (see above) including such continually popular works as 'H.M.S. Pinafore' (1878), 'The Pirates of Penzance' (1879) and 'The Mikado' (1885). Sullivan's artistic output included 23 operas, 13 major orchestral works, 8 choral works and oratorios, 2 ballets, and an abundance of other works. Apart from his comic operas with Gilbert, Sullivan is best known for some of his hymns and parlour songs, including 'Onward Christian Soldiers' and 'The Lost Chord'. He became a Freemason in 1865 and, as a member of Studholme Lodge No. 1451; he met many notable members of Victorian society. He was also Grand Organist of the United Grand Lodge of England during Queen Victoria's 50 year jubilee in 1887.
Sumarkov, Alexandr Petrovich (1717-1777) – Sumarkov was a Russian dramatist and poet. His plays, though largely based on contemporary French models, mark the emergence of Russian theatre.
Swift, Jonathan (1667-1745) – An Irish-born clergyman, satirist, poet and Freemason, Jonathan Swift was Dean of St. Patrick's Cathedral, Dublin, but is most famous for his authorship of the novel 'Gulliver's Travels' (1726). Swift's likely lodge of membership is Lodge No. 16, Dublin.
Switzer, Carl Dean 'Alfalfa' (1927-1959) – Switzer was an American child actor, professional dog breeder and hunting guide, most notable for appearing in the 'Our Gang' short subjects series as Alfalfa, one of the series' most popular and best- remembered characters.
T
Taft, William Howard (1857-1930) – 27th President of the United States, William Taft is best known for largely reforming the U.S. Supreme Court system. Brother Taft was initiated into Kilwinning Lodge No. 356, Cincinnati, Ohio on the 18th February 1909 and became very supportive of Freemasonry in general.
Tea, Richard Longstreet (1842-1911) – Richard Tea was a war hero and Medal of Honour winner. So conspicuous was his record as a soldier during the American Civil War that he was accorded the distinction by Congress of being permitted to enter either the Senate Chambers or the floor of the House and enjoy any privilege of either. Richard Tea was an enthusiastic and long time member and Past Master of Aztlan Lodge No.1, Prescott, Arizona, as his Masonically engraved headstone informs us.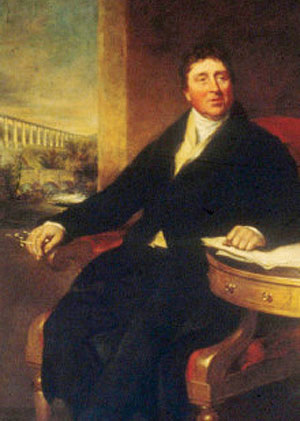 Thomas Telford was a jovial, pioneering engineer and Mason, who built over 27 bridges and aqueducts in his illustrious career.

Telford, Thomas (1757-1834) – Born in Dumfriesshire, Scotland, Telford was a self-taught civil engineer, architect and stonemason, and a noted road, bridge, aqueduct and canal builder. He designed at least 27 bridges during his life and was an early exponent of the use of cast-iron in construction. Telford was a Mason in Salopian Lodge No. 262, Premier Grand Lodge of England.
Thayer, Sylvanus (1785-1872) – Brigadier-General Thayer was famous for being "The Father of West Point", the U.S. Military Academy. As an early Superintendent of the Academy, Thayer was an early advocate of engineering education in America.
Thomas, David (1932-2002) – Dave Thomas was an orphan, but as founder of the popular Wendy's Old Fashioned Hamburgers restaurant chain, he became a self-made man. Publicly he was the grandfatherly star of 800 TV commercials; privately he did extensive work promoting the cause of orphans. The fact that the hamburgers at Wendy's are square is a reminder of Thomas' motto: "Never cut corners". Thomas was raised to Master Mason in Sol. D. Bayless Lodge No. 359, Fort Wayne, Indiana, and received the 33rd Degree, N.M.J., on 16 November 1961 in Fort Wayne. He was active in the Scottish Rite Philanthropies including their Children's Hospital programme. His friend and mentor in the restaurant business was another Freemason, 'Colonel' Harland Sanders (see above) of Kentucky Fried Chicken (KFC) fame.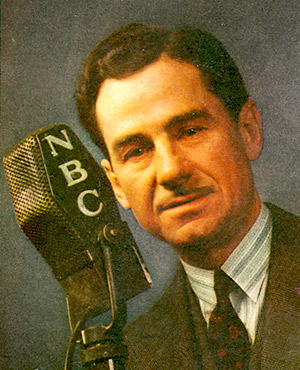 Lowell Thomas is chiefly remembered as the American reporter who immortalised British soldier Colonel T. E. Lawrence as "Lawrence of Arabia."

Thomas, Lowell Jackson (1892-1981) – A famous American reporter and radio commentator in World War II and after, Thomas broadcast a nightly news program for over 45 years (1930-1976). Thomas wrote and lectured widely on his travel adventures and, during and after World War I, was possibly most famous for travelling with, and bringing to international public notice, the British Colonel, T. E. Lawrence, a.k.a. "Lawrence of Arabia".
Thornhill, Sir James (1676-1734) – A masterful painter of historical subjects in the Italian baroque tradition, James Thornhill decorated the magnificent 'Painted Hall' at Greenwich Hospital between 1707 and 1727, and executed a fabulous last portrait of fellow Freemason, Sir Isaac Newton (see above) in 1712. In 1720, Thornhill was knighted by King George I for his artist services to the country. The English satirical artist William Hogarth (see above) was one of Thornhill's students. Hogarth married James Thornhill's daughter, Jane in 1729.
Thorvaldsen, Karl Albert Bertel (ca.1770-1844) – Born in Copenhagen into a Danish/ Icelandic family of humble means, the gifted Bertel Thorvaldsen was accepted to the Royal Academy of Arts when he was only 11 years of age. Working part-time with his father, who was a wood carver and obviously a heavy influence on his young son, he won many honours and medals at the Royal Academy and was awarded a stipend to travel to Rome and continue his education. In Italy he quickly made a name for himself as an outstanding sculptor, attracting patrons from all over Europe.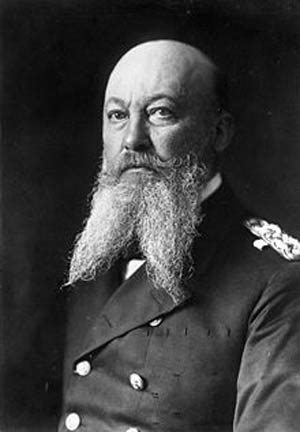 Realising that German's High Seas Fleet could never defeat Britain's Grand Fleet, Grand Admiral Alfred von Tirpitz advocated unrestricted U-boat warfare in 1917.
COPYRIGHT © Bunderarchiv

Tirpitz, Admiral Alfred von (1849-1930) – Alfred von Tirpitz was a German Admiral and Secretary of State of the German Imperial Naval Office, the powerful administrative branch of the Kaiserliche Marine from 1897 until 1916. Tirpitz is considered to be the founder of the German Imperial Navy. During World War I, he was a vocal spokesman for unrestricted U-boat warfare but, prior to the war he, personally, had done little to build up the numbers of this fairly weak underwater arm of the German naval service, being the advocate of battleship building. This approach at the time caused an arms race between Germany and Great Britain, one that Germany was bound to lose. (Related: see Jellicoe above.) Tirpitz was a member of Lodge Zur Aufrichtigen Herzen, Frankfurt.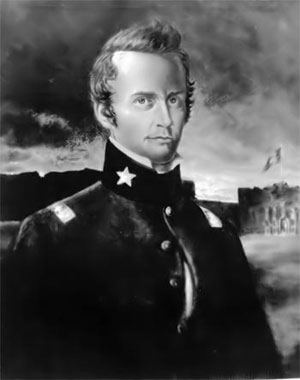 The commander of the 'Texian' defenders at The Battle of the Alamo', Colonel William Travis, died leading from the front.

Travis, Colonel William Barret (1809-1836) – William Travis was a young military leader who notably commanded the 'Texian' defenders holding out in the mission of San Antonio de Valero, better known as 'The Alamo', against overwhelming odds. Approximately 182 rebels were pitted against more than 2,400 Mexican soldiers. The Texians (as they were known) were attempting to wrest the rule of Texas from Mexico during the Texas Revolution. They were also so positioned as to delay the advance of General Santa Anna's force, in order to buy time for Texan General, Sam Houston(see above) to raise an army to effectively oppose him. Leading from the front, Colonel Travis was one of the first to be killed defending The Alamo's north wall as thousands of Mexican soldiers stormed the mission. Several of Travis's fellow Freemasons, notably James Bowie and David Crocket (see above) also fought to the death against odds of more than 13 to 1. Nevertheless their sacrifice was not in vein, causing Santa Anna to be defeated 7 weeks later at The Battle of San Jacinto, and Texas being ultimately set to become the 28th state of the U.S.A. Travis was a member of Alabama Lodge No. 3, Claiborne, Alabama.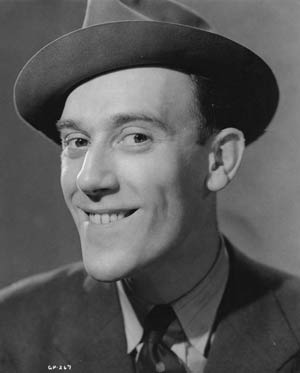 Tommy Trinder was one of Britain's best loved comedians from the late 1930's through to the 1960's.

Trinder, Thomas Edward 'Tommy' (1909-1989) – Known to millions of depressed Britons, especially during the Second World War, as 'Tommy' Trinder, this English comedian helped the British people laugh their way through the dark days of that conflict, and the lean years that followed it. He worked in film and television right up until 1986. Tommy Trinder's immodest catch phrase was "You lucky people".
Trollope, Anthony (1815-1882) – A prolific writer and novelist, Anthony Trollope spent a substantial part of his life in Ireland, which he loved. He was employed by the British General Post Office (G.P.O.) and moved to Waltham Cross, Hertfordshire, England so as to be central to his managerial area. While thus ensconced he wrote several of his works while travelling to visit various Post Office branches. Trollope is also credited with introducing the ubiquitous red post box, the Pillar Box, seen on so very many British streets. For his day, the adventurous Trollope travelled widely and internationally and, as early as 1873, wrote a travel guide to 'Australia and New Zealand', but he is best remembered for his novels such as 'The Warden' (1855) and 'Barsetshire Towers' (1857), set in the fictitious English County of Barsetshire.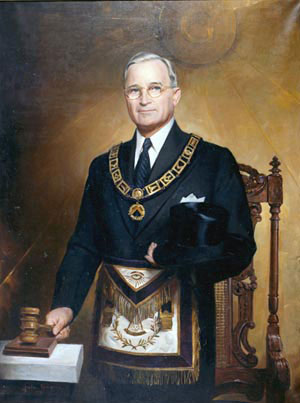 U.S. President and Freemason, Harry S Truman gave the order to drop the atomic bombs that finally ended the Second World War.

Truman, Harry S. (1884-1972) – Following the death of another famous Freemason, Franklin Delanor Roosevelt (see above), Harry S. Truman became the 33rd President of the U.S.A. He came to national attention as head of what was called the 'Truman Committee' that investigated and advised on government wartime production and saved taxpayers millions of dollars. He went on to win a close election in 1948. Truman was initiated into Freemasonry on 9 February 1909, in the Belton Lodge No. 450 in Missouri. In 1911 he helped establish the Grandview Lodge No. 618, and he served as its first Worshipful Master. In 1940, Harry Truman was elected the 97th Grand Master of the Masons of Missouri. In 1945, he was made a 33° Sovereign Grand Inspector General and an Honorary Member of the supreme council at the Supreme Council A.A.S.R. Southern Jurisdiction Headquarters in Washington D.C. In 1959, he was awarded a 50 year jewel. He became District Lecturer and, when he visited Lodges all over the country, he preferred to be introduced as a "Past Grand Master" rather than as President. In a televised ceremony, President Truman was buried with full Masonic rites in Independence, Missouri in 1972.
Twain, Mark (1835-1910) – (See Clemens, Samuel Langhorne above.)
U
V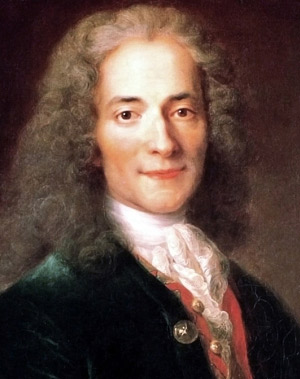 Voltaire was a French Enlightenment writer famous for his wit and advocacy of civil liberties, in a time when such thinking could cost you your life.
Copyright: © Musee Carnavalet

Voltaire (1694-1778) (See Arouet, François-Marie above.)
Vivekananada, Swami (Born: Narendranath Dutta) (1863-1902) – Swami Vivekananda was a Hindu spiritual leader, he is considered a key figure in the introduction of the philosophies of Vedanta and yoga into Europe and the U.S.A., and also for raising interfaith awareness in the late 19th century. Vivekananada was a member of Hope and Anchor Lodge No. 1, Calcutta, India.
Vuia, Traian (1872-1950) – This Romanian inventor and early aviation pioneer, Traian Vuia flew the first unassisted take-off and landing in an aeroplane in 1906.
W
Wade, Joseph Samuel 'Joe' (1921-2005) – Born in London, Joe Wade was a player for Arsenal Football Club for most of his playing career. He moved in to club management and was the manager of Hereford United from 1956 to 1962.
Wagner, Sidney (1901-1947) – A Hollywood cinematographer: a master of his craft, Sidney Wagner was nominated for two Academy Awards®. Among the many movies he photographed were, 'Mutiny on the Bounty' (1935) starring Clarke Gable (see above); 'Boy's Town' (1938) starring Spencer Tracy and 'The Postman Always Rings Twice' (1946) starring Lana Turner. Tragically Sidney Wagner died at the age of only 46 of cholera while filming 'Fiesta' in Mexico.
Wainwright, Jonathan Mayhew (1883-1953) – Jonathan Wainwright was a U.S. Army General in the Philippines during the Japanese invasion in 1941. Having fought at Bataan, he surrendered Corregidor in the interest of preventing further loss of life, but it was a decision that haunted him all his remaining life. Wainwright was awarded the Medal of Honor in 1945.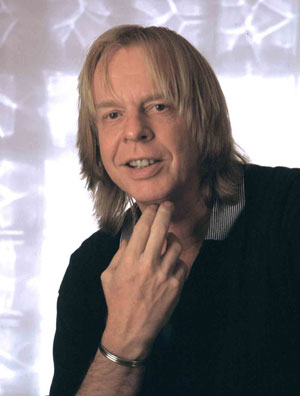 Freemason Rick Wakeman gives much of his time to helping charitable organisations such as the UK childrens charity SPARKS.

Wakeman, Richard Christopher 'Rick' (1949- ) – A dazzling keyboard player and world renowned composer, Rick Wakeman was born in Northolt near London. Having gained entry to The Royal College of Music, he left to become a session musician on David Bowie's 'Space Oddity'. Rick played on three albums for 'The Strawbs' (1970- 1971) before joining the progressive rock band 'YES' in 1971, with whom he has had an on-and-off relationship ever since: although it should be said that Wakeman has also enjoyed a stellar solo career in between time. Wakeman freely gives of his time to charities, one being the very worthy charity for young children SPARKS (Sport Aiding Medical Research for Kids). Rick Wakeman joined Chelsea Lodge No. 3098 in London. (See article elsewhere on this website.)
Wallace, George Corley (1919-1998) – A governor of Alabama and U.S. presidential candidate, Wallace at one time held strong racial discriminatory views. Following his induction into Freemasonry, Wallace had a change of heart and many against whom he had previously stood recognised this and realised his new humanity. In 1972, Wallace cheated death following an assassination attempt but spent his remaining years wheelchair bound and in constant pain. Wallace was Orator of the Grand Lodge of Alabama in 1961.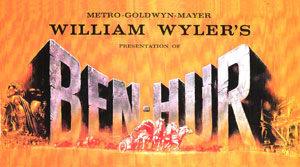 Never out of print since its first publication in 1880, Lew Wallace's novel 'Ben-Hur: A Tale of the Christ' immortalised him.

Wallace, Lewis 'Lew' (1827-1905) – Unfairly maligned for poor decision making during the American Civil War, this military leader, solicitor, statesman and writer served in the Union army reaching the rank of Major General. It was, however, his novel 'BenHur: a Tale of the Christ' (a book that has been filmed four times, and that has never been out of print), that won him true fame.
Ward, John – 1st Viscount Dudley and Ward (1704-1774) John Ward was an English peer and politician. He was the Member of Parliament for Newcastle under Lyme from 1727 until 1734, and joined the House of Lords in 1740. He was Grand Master of the Grand Lodge of England in 1742 to 1743.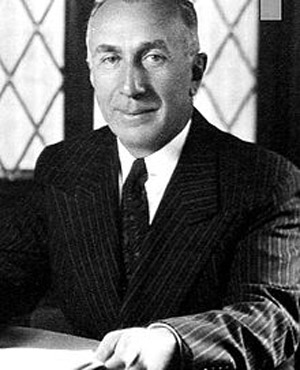 Along with his three brothers, Albert, Sam and Jack, Harry Warnerplayed a crucial role in the development of Warner Brothers and the film industry in general.

Warner, Harry Morris (Given name: Hirsch Moses Wonsal) (1881-1958) – Born to Jewish parentage in Krasnosielc, a village near Warsaw, Poland, his father, Benjamin Wonsal (some say 'Wonskolaser'), changed the Yiddish-sounding family name(s) to anglicized versions upon his arrival in New York in 1888. Along with his brothers, Albert, Jack and Sam, Harry Warner started the motion picture studio Warner Brothers. Harry (a renowned 'penny-pincher') was often at odds with his more adventurous sibling Sam, and when Sam Warner proposed adding sound to movies, Harry famously barked, "Who the hell wants to hear actors talk?!" Harry Warner was a member of Mount Olive Lodge No. 506, California.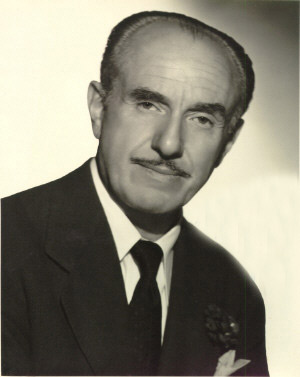 Though his business ethic was unscrupulous, with a career spanning 45 years, Jack Warner was the President and ultimate driving force behind Warner Brothers Film Studios.

Warner, Jack Leonard (Given name: Jacob Warner) (1892-1978) – Jack Warner was born in the town of London in Canada, the youngest (but certainly the most ambitions) of the four filmmaking Warner brothers. Following the untimely death of his brother Sam, Jack Warner was often at difference with his two surviving brothers, Albert and Harry. In July 1956, he manipulated a sale of company stock that saw his brothers unknowingly sell their shares indirectly to him and thus he became president and controller of Warner Brothers' Entertainment Incorporated. In spite of their sibling rivalry, the Warner brothers went on to create a film studio full of superstars, including: Bette Davis, Humphrey Bogart, Marlon Brando, James Dean, Clint Eastwood and Daniel Radcliffe ('Harry Potter'); through superbly crafted films of the calibre of 'Casablanca' (1942); 'A Streetcar Named Desire' (1951); 'Rebel Without a Cause' (1955); 'Dirty Harry' (1971); 'The Exorcist' (1973) and the top grossing 'Harry Potter' film series (2001-2011). Like his brothers, Jack attended Mount Olive Lodge No. 506 in California.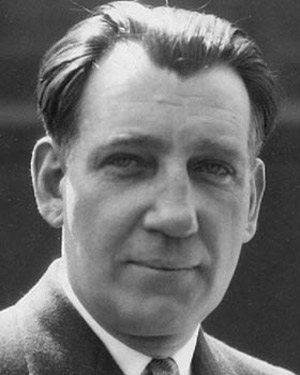 Credited with producing the world's first feature-length talking picture 'The Jazz Singer' in 1927, Sam Warner died the day before the film's release.

Warner, Samuel Louis 'Sam' (Given name: Schmuel Wonsal) (1887-1927) – Like his brother Harry Warner, Sam Warner was born in Poland and was, arguably, the most creative of the Warner brothers siblings. It could be said that Sam Warner was THE most influential moving picture innovator of the 20th century, as it was he who introduced the first ever movie with sound, the original 'talkie', 'The Jazz Singer' (1927) starring Al Jolson (see above). Sadly Sam died of pneumonia following a sinus infection on the 5th October 1927, just one day before the premier opening night of this ground breaking film. Sam was also a member of Mount Olive Lodge No. 506, California.
Warren, Sir Charles (1840-1927) – A soldier, Royal Engineer, English archaeologist and the London Metropolitan police chief in charge of the unsuccessful 'Jack the Ripper' investigation in 1888, Charles Warren, earlier in his life, had organised archaeological digs in Jerusalem and, in surveying King Herod's Temple, ushered in an age of Biblical archaeology. He was elected a member of The Royal Society of London (See the Royal Society article elsewhere on this website.) in June, 1884. A devout Anglican and dedicated Freemason, Warren became the third District Grand Master of the Eastern Archipelago in Singapore, and the founding Master of the Quatuor Coronati Lodge No.2076, the lodge of research in Freemason's Hall, London. (See also Walter Besantabove.) Charles Warren also attended the Royal Lodge of Friendship No.278, Gibraltar.
Warren, Joseph (1741-1775) – This physician and American Revolutionary Major-General, was killed at 'The Battle of Bunker Hill' in 1775. (He was probably shot after surrendering, by a British officer, Lieutenant Lord Rawdon, who recognised him and considered him a rebel.) The manner of his death inflamed the Revolutionaries to even greater revolt. Warren had joined the Lodge of St. Andrew in Boston, New England; later serving as Grand Master of Masons in Massachusetts.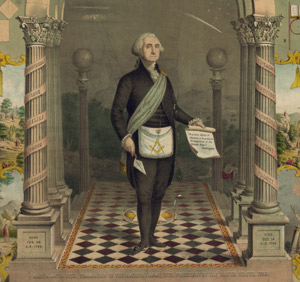 The most famous Freemason of them all, President George Washington was "the father of the United States."

Washington, George (1732-1799) – 1st President of the United States, George Washington, as General of the Armies of the colonies, led the revolution that begat American independence from Great Britain. As the first President, the style of his lead- ership was crucial to establishing the tone of the United States. Washington became an Entered Apprentice Freemason on 4 November 1752, a member of Fredericksburg Lodge No. 4 in Virginia and, on 28 April 1788, was named Worshipful Master of Alexandria Lodge No. 22, in Alexandria, Virginia. His tie to the Order is documented by the close reliance he put upon other Masons in the execution of his duties. Following his death, his widow sent locks of his hair (a common practice of the time) to Masonic Lodges throughout the country, and such rare treasures were the object of great appreciation. To this day a lock of his hair, sent to the Grand Lodge of Massachusetts, is carried in a golden urn preceding the entry of the Grand Master at the Annual Meeting of the Grand Lodge.
Watson, Thomas John (1874-1956) – A self-made American industrialist and billionaire businessman, Watson was President and Chairman of International Business Machines (IBM) from 1914-1956. He was one of the richest men of his time and called "the world's greatest salesman".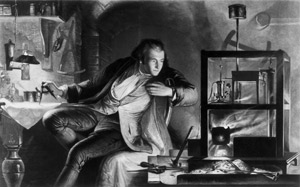 James Watt provided the means to power the Industrial Revolution.
Illustration: COPYRIGHT © To Follow

Watt, James FRS, FRSE (1736-1819) – For many years it was not realised that the provider of the power for the Industrial Revolution actually was a Freemason until his Master Mason's certificate was uncovered among some personal papers. James Watt was initiated, passed and raised in Glasgow Royal Arch Lodge. His certificate, dated 10th June 1763, is signed by his Worshipful Master, Robert Dobson; SW James Wright and JW William Dick, but was never filed with the Grand Lodge of Scotland. Born in Greenock, west Scotland on 19 January 1736, this largely self-taught inventor and mechanical engineer now has his own feature on the web site of the Grand Lodge. Contrary to popular thought, James Watt did not actually invent the steam engine but he did massively improve on the original designs of Thomas Savery (1698) and Thomas Newcomen (1712). Watt's coal fired engine now enabled industrial machinery of the time to be driven away from a source of water, such as a water wheel, water being the usual source of mechanical driving power in the 18th century. Watt did not enjoy the politics of business; of pricing projects and doing deals, and this almost certainly explains the reason that his partnership with business partner, Matthew Boulton was so successful. Boulton handled the business, and the pair became very wealthy men during their lifetimes. This brilliant Scotsman developed the concept of 'horsepower' and the unit of power, the watt, is named after him. His statue now stands in St. Paul's Cathedral where its inscription reads, "James Watt … enlarged the resources of his country, increased the power of man, and rose to an eminent place among the most illustrious followers of science and the real benefactors of the world."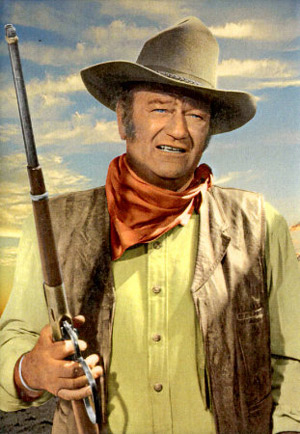 Holder of the 33 degree, Mason John Wayne was a through and through American patriot.

Wayne, John 'Duke' (Real name: Marion Mitchell Morrison) (1907-1979) – One of the most popular actors of the 20th Century, John Wayne's 'tough guy' roles helped define a generation. Appearing in more than 250 films, Wayne finally won an Oscar® for his lead role as the one-eyed character Rooster Cogburn in 'True Grit' (1969), a memorable Western that was remade in 2010. An early career break was occasioned by silent movie star and fellow Freemason Tom Mix (see above). A member of Marion McDaniel Lodge No. 56, Tucson, Arizona and also a 33 Degree holder, Wayne came through the Masonic ranks via the Order of deMolay, founded by Frank S. Land (see above).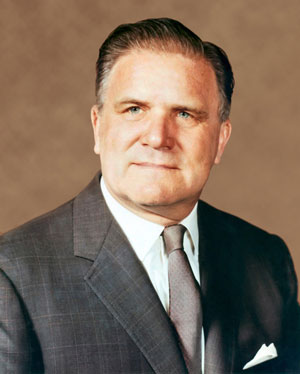 The James Webb Space Telescope takes its name from the man who shaped NASA, Freemason James Edwin Webb.

Webb, James Edwin (1906-1992) Born in Tally Ho, North Carolina, USA, James Webb served as a pilot in the US Marine Corps, 1930-1932. With qualifications in education and law, he became variously a lawyer, Barrister, vice-President of Sperry Gyroscope Company, director of the Bureau of the Budget within the Executive Office of President Truman (see above), and Under Secretary of State.
When, in 1961, Webb was approached by President John F. Kennedy to head up the fledgling NASA organisation as their 'Administrator', James Webb was originally reluctant to accept the post. Webb felt his background was money not science, and considered that a person with a background in aeronautical science would be more appropriate. President Kennedy disagreed, insisting that the role was not a scientific one but rather policy-based with a strong fiscal element – and adeptly won Webb over. It proved an astute choice as Webb went on to adroitly steer NASA through its most exciting early phase.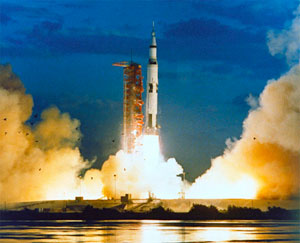 James Webb oversaw the NASA administration during the Apollo moon landing missions.

Under his direction, NASA launched 75 space science missions; including Project 'Apollo', the Orbiting Solar Observatory, and the 'Explorer' series of astronomical satellites – building the foundation for the most successful period of space exploration in history. Until October 1968, James Webb politicked, coaxed, cajoled, and manoeuvred for NASA in Washington. As a long-time Washington insider, he was a master at bureaucratic politics. In the end, through a variety of methods, Administrator Webb built a seamless web of political liaisons that brought continued support for, and resources to, accomplish the Apollo moon landing within the 10-year schedule President Kennedy had announced on the 25th May 1961.
It has been said that James Webb, a mere "administrator", did more to progress modern science that any qualified scientist ever could. The planned replacement for the orbiting Hubble Telescope, the New Generation Space Telescope was renamed the James Webb Space Telescope, in his honour.
James Webb was a Brother in University Lodge No. 408, Chapel Hill, North Carolina.
Webb, Captain Matthew (1848-1883) – Captain Webb was the first man to swim the English Channel between Dover and Calais, without artificial aids. His attempt took place on 25 August 1875, and he completed it in 21 hours 45 minutes. The feat made him a national hero in Great Britain. Webb died attempting a dangerous swim across the Whirlpool Rapids beneath Niagara Falls, and is buried in Oakwood Cemetery, Niagara Falls, New York. His memorial in England reads, "Nothing great is easy." Webb appropriately attended Neptune Lodge No. 22.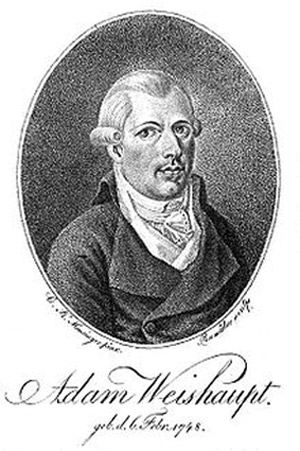 German philosopher Adam Weishaupt was the founder of the 'Order of the Illuminati', a secret society with its origins in Bavaria.

Weishaupt, Johann Adam (1748-1830) – A German philosopher and free-thinker, Johann Weishaupt was initiated into Lodge Theodor zum guten Rath in Munich in 1777. Weishaupt had already founded 'The Order of the Illuminati' in 1776 and attempted to combine the two. At its height the Illuminati boasted among its members, Charles Augustus of Saxe-Weimar; Duke Ernest of Gotha; Duke Ferdinand of Brunswick, von Goethe; Herder and Pestalozzi among many other luminaries of the era.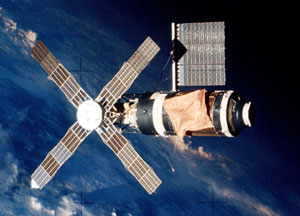 Paul Weitz piloted Skylab-2 for 673 hours in orbit.

Weitz, Paul Joseph (1932 – ) Paul Weitz (pron. Whites) is an exceptionally gifted pilot. He logged 7,700 hours flying time with 6,400 on jet aircraft and, as if that was not enough, he also has accumulated 673 hours in space as pilot of the Skylab-2 mission and a further 120 as the first pilot of the space shuttle Challenger, during its STS-6 mission.
Awarded his wings in 1956, Weitz served as a pilot during the Vietnam War with the US Navy. He was selected for astronaut training as one of the 19 airmen who made up the 'Group 5' intake into NASA in April, 1966. (It is curious to note that, of those 19 men selected, four were Freemasons – Fred Haise, Jim Irwin, Ed Mitchell and Paul Weitz.)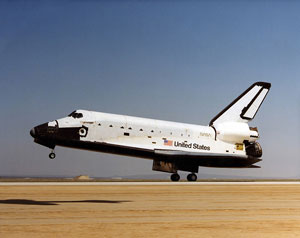 Saturday, April 9th 1983 and Paul Weitz guides space shuttle Challenger to a perfect landing at Edwards AFB, California, after its first 120 hour 'flight'.

As pilot of the orbiting laboratory, Skylab-2, in 1973 Weitz undertook extravehicular duties involving a spacewalk lasting 2 hours 11 minutes to help repair the damaged craft in space and, as commander of the STS-6 mission in 1983, assisted the crew with numerous experiments in the zero G conditions. During his career Paul Weitz accumulated medals and awards far too numerous to list. He retired in 1994, as Deputy Director of the Johnson Space Centre, to further pursue his favoured hobbies of hunting and fishing.
Bro. Weitz attends Lawrence Lodge No. 708 in Erie, Pennsylvania.
Wentworth, William Charles (1790-1872) – William Wentworth was an Australian, poet, explorer, and politician, well known for his expeditions into the interior of New South Wales, he was also the editor of the first newspaper on the continent, 'The Australian'.
Wesley, Samuel (1766-1837) – The nephew of John Wesley, the founder of the Methodist Church, Samuel Wesley was an organist and composer during the late Georgian period and has been referred to as "the English Mozart". In 1788, Wesley became a Freemason in the Lodge of Antiquity, and was appointed Grand Organist in 1812 by the Grand Master Prince Augustus Frederick (1773-1843), Duke of Sussex, the 6th son of King George III.
Wheeler, Jimmy (Real name: Ernest Remnant) (1910-1970) – A comedian born in London, Jimmy Wheeler was from 1928 a pioneer of radio performance and TV from 1932 to the 1960's. In the style of Jack Benny, Wheeler used a violin as part of his act and would often parody famous operas. His catchphrase, "Aye, Aye. That's Your Lot" was given new life by fellow Londoner, musician Ian Dury.
Wharton, Philip – 1st Duke of Wharton (1698-1731) – An English politician, James Wharton was notorious as the founder of the original 'Hellfire Club'. Wharton was well educated and a gifted speaker but rather juvenile and naïve in his outlook. He was Grand Master of the Premier Grand Lodge of England, but only for one year (1723). He became a Jacobite and, having fought against the English in Spain in 1727, faced a charge of treason in 1729.
Whiteman, Paul Samuel (1890-1967) – Paul Whiteman is most famous for commissioning Gershwin's 'Rhapsody In Blue', but he also introduced symphonic jazz to a general audience, for which, during the 1920's, he became known as the "The King of Jazz". This American conductor gave many performers their 'first break', including singers Bing Crosby and African-American Paul Robeson with 'Ol' Man River' (1928).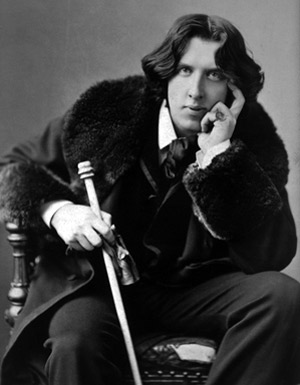 Famous during his lifetime as an outstanding Irish writer and poet, Oscar Wilde sadly died destitute in Paris at the age of 46.

Wilde, Oscar Fingal O'Flahertie Wills (1854-1900) – Arguably the most famous Irish playwright, novelist, poet and aesthete, after writing in different forms throughout the 1880's, Oscar Wilde became one of London's most popular playwrights by the early 1890's. Today he is remembered for his epigrams, plays and the tragedy of his imprisonment that hastened his early death. Wilde was the author of 'The Importance of Being Earnest', 'The Picture of Dorian Gray' and 'The Ballard of Reading Gaol'. Oscar Wilde attended Apollo University Lodge No. 357, Oxford (UGLE). Also Rose Croix and Mark MM.
Wildman, Mark (1936- ) – English snooker and pool TV commentator Mark Wildman is a retired professional player of snooker and billiards. He made the first televised century snooker break (107) in November 1960 on the Associated Television (ATV) channel. Runner up in 1980 and 1982, Wildman finally won the World Professional Billiards Championship in 1984. He is also the former coach of 2005 World Snooker Champion, Shaun Murphy.
Wilkes, John (1725-1796) An English radical politician, journalist and libertine, John Wilkes was first elected Member of Parliament in 1757. In the Middlesex election dispute, he fought for the right of voters, rather than the House of Commons, to determine their representatives. In 1771 he was instrumental in obliging the government to concede the right of printers to publish verbatim accounts of parliamentary debates. He became Lord Mayor of London in 1774 and, in 1776, introduced the first Bill for parliamentary reform in the British Parliament. He was a pioneer advocate of religious tolerance and "freedom of the press". Wilkes was well known for his quick wit, an example of which is the exchange between Wilkes and John Montagu, 4th Earl of Sandwich, who railed, "Sir, I do not know whether you will die on the gallows or of the pox!" Wilkes reposted: "That depends, my Lord, on whether I embrace your lordship's principles or your mistress."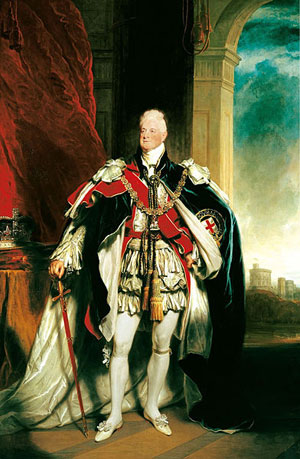 King William IV did much during the 1830's to heal the rift between Great Britain and America.

King William IV – William Henry, King of Great Britain, Ireland and Hanover (1765- 1837) – During his short reign (1830-1837), William IV made a better monarch than had been anticipated. He did much to heal the rift between America and Britain, and also assisted the passing of several ground-breaking Acts of Parliament; notably the 'Factory Act' – preventing child labour; the 'Abolition Act' – emancipating slaves in the colonies and the 'Poor Law' – which standardised provision for the destitute. He was succeeded on the throne by his niece, Princess [Queen] Victoria. King William IV was a Fellow of The Royal Society of London, he was made a Mason in Plymouth, England on 9th March 1786.
Wilson, James (Orangeman), – On 22 January 1793, James Wilson, along with 'Diamond' Dan Winter and fellow Freemason James Sloan (see above) founded the Orange Order in County Tyrone, Ireland in response to attacks on Protestant homes in the area.
Wimble, Frederick Thomas (1846-1936) – Originally from London, upon moving to Melbourne, Australia, Frederick Wimble became an Australian printer and pioneer printing ink manufacturer, a skill learned from his father. Wimble was the founding editor of 'The Cairns Post' newspaper and became a politician within the Queensland Legislative Assembly. He was a long-time Freemason and a member of the United Grand Lodge of NSW.
Wingate, Sir Francis Reginald – 1st Baronet Wingate (1861-1953) – Of Scottish and Irish decent, Reginald Wingate was born in Glasgow. He was the British General who succeeded Lord Kitchener (see above) in the Sudan, and finally defeated the Dervishes at The Battle of Umm Diwaykarat in 1899 by making much use of the then new Maxim machine gun (See Hiram Maxim above.) to compensate for his outnumbered British/ Egyptian forces.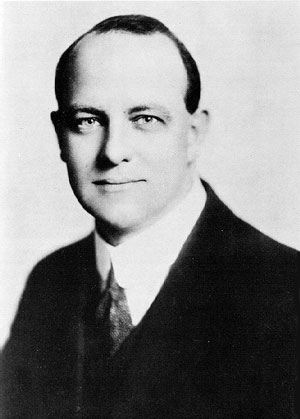 Famous for his Jeeves and Wooster stories, PG Wodehouse was a member of Jerusalem Lodge No.197, UGLE, London.

Wodehouse, Pelham Grenville 'P.G.' (1881-1975) – Born prematurely in Guildford, Surrey, England, P.G. Wodehouse was a prolific writer of humorous short stories, novels, plays, poems and song lyrics. His most famous stories are about the adventures of Jeeves and Wooster, narrated by the wealthy, but scatterbrained, Bertie Wooster. By the Second World War, Wodehouse had become a wealthy man but, while living in the South of France, he was interned by the Nazis as "an undesirable alien" and, after the war, he moved to the U.S.A., where he became a naturalised citizen in 1955. Known to his family and friends as 'Plum', P.G. Wodehouse was a golfing nut. One of his many quotes on golf was, "The least thing upset him on the links. He missed short putts because of the uproar of the butterflies in the adjoining meadows." He was a member of Jerusalem Lodge No. 197, UGLE, London.
Wolfit, Sir Donald (Born: Wolfitt) (1902-1968) – Actor Peter O'Toole sites Donald Wolfit as his most important mentor, and he received a similar accolade from playwright Harold Pinter. An actor of great stature, Englishman Wolfit was knighted for his "services to the theatre" in 1957.
Wolseley, Sir Garnet Joseph – Field Marshal, 1st Viscount Wolseley (1833-1913)– Born at Golden Bridge, County Dublin, Ireland, Garnet Wolseley had a long and most distinguished career in the British Army. Always leading from the front, his bravery was unquestioned, being badly wounded during the Second Burmese War in 1853 and again in the Crimea during the Siege of Sevastopol, where he lost an eye. He distinguished himself at the Siege of Lucknow during the Indian Mutiny and by his brilliantly executed Ashanti Campaign in China, and also during the Zulu War in South Africa and the Nile Expedition against Mahdist Sudan (1884-85). This Freemason and faithful servant of the British Empire was laid to rest with due ceremony in St. Paul's Cathedral, London.
Wood, Grant DeVolson (1891-1942) – A painter famous for stylized realism in his depictions of the rural American Midwest, his best known work is 'American Gothic' (1930), a dual portrait, now recognised as an cultural icon.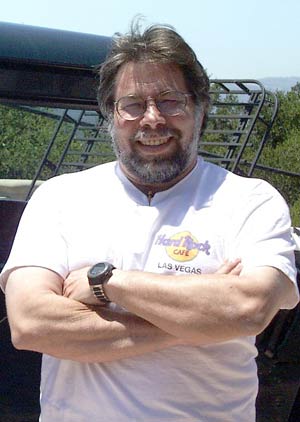 'Woz' Wozniak co-founded Apple Computers with Steve Jobs and Ronald Wayne, and contributed significantly to the microcomputer revolution of the 1970's.

Wozniak, Steven Gary 'Woz' (1950- ) – 'Woz' is the celebrated American computer engineer and philanthropist who co-founded computer giant Apple Incorporated with Steve Jobs (who passed away in 2011) and Ronald Wayne. Wozniak is the inventor of the Apple I computer and its successor, the Apple II computer, a major contributor to the microcomputer revolution. In 2011 he was awarded the Global Award of the President of Armenia for Outstanding Contribution to Humanity Through IT. Freemason Woz Wozniak is a member of Charity Lodge No. 362, Campbell, California.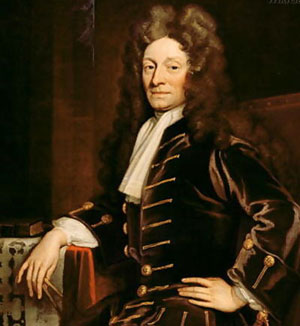 The most famous architect in history, Freemason Sir Christopher Wren formed The Royal Society of London in 1660.

Wren, Sir Christopher (1632-1723) – The most famous architect in British history; Wren was educated in Latin and Aristotelian physics at the University of Oxford. He was a notable astronomer and mathematician and, following the Great Fire of London in 1666, Christopher Wren organised the rebuilding of 51 churches in that city for King Charles II, the most illustrious of which is St. Paul's Cathedral. Lest we forget to mention his other architecture masterpieces, most noteably, Hampton Court and the Wren Library at Trinity College, Cambridge University. Christopher Wren's portrait featured on the reverse side of the £50 banknotes issued by the Bank of England from 1981 until 1994.
On the 28 November 1660, Wren became a founder of The Royal Society of London(See also Elias Ashmole and Sir Robert Moray above.), becoming president in 1680. His scientific work was highly regarded by Sir Isaac Newton and Blaise Pascal (see above). He was an active Freemason; the Master of Lodge Original, No. 1. (This is now the Lodge of Antiquity No. 2, "adopted" on 18 May 1691.) His remains are interred in St. Paul's Cathedral, London, where a simple stone plaque is inscribed: 'Reader, if you seek his memorial – look around'.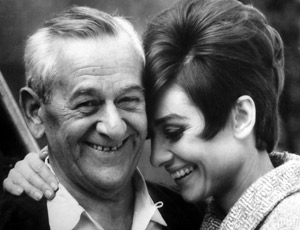 William Wyler is pictured with Audrey Hepburn who he introduced to American audiences in his comedy romance 'Roman Holiday', the film also won Hepburn her first Oscar© for Best Actress.

Wyler, William (Born: Wilhelm Weiller) (1902-1981) – Born in Mülhausen, Germany of Jewish parentage, William Wyler became an American motion picture director best known for his many meticulously crafted, award-winning films. Wyler was regarded as second only to John Ford as a "master craftsman of cinema."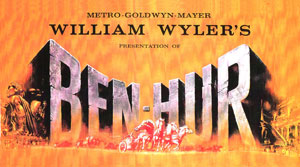 A film of epic propotions, 'Ben-Hur' won a record 11 Academy Awards, including Best Picture and, for William Wyler himself, the Oscar© for Best Director.

His most notable works include 'Ben-Hur' (1959), 'The Best Years of Our Lives' (1946), and 'Mrs. Miniver' (1942), all of which won Wyler Academy Awards for Best Director, and also won Best Picture. Wyler earned his first Oscar® nomination in 1936 for directing 'Dodsworth', starring Walter Huston and Mary Astor, "sparking a 20 year run of almost unbroken greatness." An utter perfectionist, he literally wrung the best performances from his actors. Once while filming the romantic drama 'Jezebel' (1938) starring Bette Davis, Wyler forced Henry Fonda through 40 'takes' until he was satisfied. William Wyler attended Loyalty Lodge No.529 in California.
Wynn, Ed (Given name: Isaiah Edwin Leopold) (1886-1966) – Ed Wynn was a comedian and actor but showed his 'humanness' by always being extremely nervous prior to tackling any dramatic undertaking; yet he moved, seemingly effortlessly, between to two roles and, in 1959, won an Academy Award nomination as Best Supporting Actor in 'The Diary of Anne Frank'.
X
Y
Yarker, John (1833-1913) – Hopefully unknown to his proposer, John Yarker was an English occultist who became a member of the Lodge of Integrity No. 189 (later 163) in Manchester on 25 October 25, 1854. This Lodge affiliated with Fidelity Lodge No. 623 in April 27, 1855. Yarker was expelled from the Ancient and Accepted Rite and demitted (from all regular Freemasonry) in 1862.
Z
Zanuck, Darryl Francis (1902-1970) – Darryl Zanuck was a writer, actor, producer, and studio executive who, in 1933, became a co-founder of 20th Century Fox. Films such as 'The Jazz Singer' (1927); 'The Longest Day' (1962); 'The Sound of Music' (1965) and 'Patton' (1970), made him a legend, yet the memorial by his family notes his Masonic affiliation and achievements above all his other accomplishments! Brother Zanuck belonged to Mount Olive Lodge No. 506, Los Angeles, California.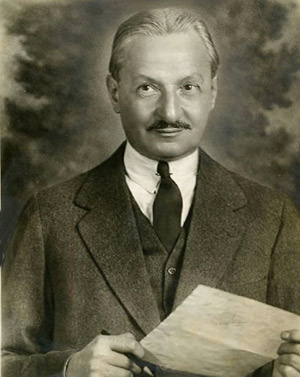 American Broadway impresario, Florenz Ziegfeld Jr., was notable for his series of theatrical reviews 'The Ziegfeld Follies' inspired by the 'Follies Bergère' of Paris. He also produced the world famous musical 'Show Boat'.

Ziegfeld, Florenz (1867-1932) – A Broadway impresario, Florenz Ziegfeld created the famed 'Ziegfeld Follies' that were based on the Parisian 'Folies Bergère' and ran from 1907 to 1931. Several actors and comedians (many of whom were Freemasons) experienced their first successes within his lavish shows, men such as W.C. Fields, Eddie Cantor and Will Rogers (see all above). Ziegfeld was a member of Accordia Lodge No. 277, Chicago, Illinois.
Zoffany, John (Given name: Johannes Josaphus Zaufallij) (1733-1810) – Born in Frankfurt, Germany, John Zoffany was a neoclassical painter who was active mainly in Great Britain, whose numerous illustrious art galleries display many of his superbly executed works. On 19 December 1763, Zoffany was initiated into The Old King's Lodge No. 28.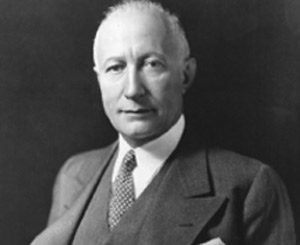 Freemason Adolph Zukor is most famous for being a cofounder of Paramount Pictures film Studios.

Zukor, Adolph (Born: Adolph Cukor) (1873-1976 aged 103) – Originally from the village of Ricse in Hungary, Adolph Zukor emigrated to North America when he was 16. Originally obtaining work as an apprentice furrier, in time, he came to own his own profitable fur business. He got into the moving picture industry in 1903, when he formed the Famous Players Film Company with Marcus Loew. The actress Sarah Bernhardt was one of his earliest 'stars' with the company eventually evolving into the legendary Paramount Pictures. Zukor was a Freemason in Centennial Lodge No.763, New York.
END
It should be noted that listed here are some of the more well known Freemasons, but it is extremely important to appreciate that for every recognisable name there have been, and are, tens of thousands, of 'ordinary' Freemasons who go about their particular work quite anonymously – and most prefer it to be ever thus.
The above list is not, nor does it claim to be, definitive. The names of many 'known' (or likely) Freemasons have been omitted for a variety of reasons, the lack of a viable citation or confirmation, being the most common. If brethren feel that a well known Freemason has been omitted when his status is such that reference to him must appear herein, please leave your comment.